John Deere's new 3D Series compact utility tractors are designed to tackle a multitude of jobs, including pulling, hauling, cutting and tilling.
The 3025D, 3035D and 3043D have a gear-drive transmission and two ranges and four speeds each. The gear shift lever is located to avoid awkward shifting gears between the knees.
The series has three horsepower levels: 25 horsepower, 35 horsepower and 43 horsepower. Each model has a weight of 2,778 pounds and a hauling capacity of 4,000 pounds.
"Our customers need rugged, tough machines that can tackle a variety of jobs, just like they do," says DeMark Cole, product marketing manager, John Deere. "Customers are demanding a gear-drive transmission in the compact utility tractor market, and our 3D tractors provide just that – a simple, dependable, affordable gear-drive machine."
The tractors have a long wheelbase and wide stance for improved stability and a smooth ride over rough terrain. The series has a tight turning radius and hydrostatic steering for easy maneuvering.
The 3D Series features a rear-mounted fuel tank that can hold 10 gallons. All the models are compatible with the all new John Deere Quik-Knect System. This prevents twisting or forcing to line up the splines when attaching rear implements. Operators can now slide the tractor and implement connectors together until they click in place.
The models are available with a 300E loader for added versatility. The tractors also have a three-point hitch that can lift nearly 1,600 pounds.
The tractors come with a standard two-year/2,000-hour warranty. The power train has a 6-year/2,000-hour warranty.
Step-N-Secure offers pickup truck bed handle accessory
Step-N-Secure has launched a new pickup accessory that adds safety and security features to the bed of all Ford, GM and Dodge trucks.
The product Step-N-Secure installs into the truck bed stake hole, serving the dual purpose of providing a handle for those stepping into the bed of their truck as wells as serving as a raised-tie-down for securing cargo loads.
"As someone who has always owned and driven a pickup, I wanted to develop a simple, yet rugged accessory that made climbing into the back of my truck easier and safer, while also doubling as a raised tie-down point for large cargo loads," says Joe Brielmann, co-owner of Step-N-Secure. "This product is designed to make life easier for any pickup truck owner, whether you're a weekend warrior doing jobs around the house or using your truck for daily work."
The dual handle and tie-down accessory is easy to install on your own and has an MSRP of $29.99. To learn more, click here.
Sipcam Agro USA introduces herbicide for pre- and post-emergent weed control
Coastal Herbicide, a Sipcam Agro USA product, has been federally registered and serves as a pre- and post-emergent control for both broadleaf and grassy weed control on the four major southern turfgrasses.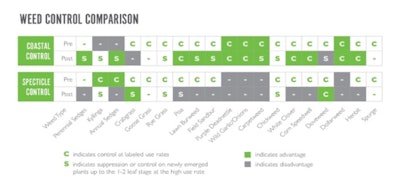 Costal has three active ingredients combined and can be used without the need to tank mix, making it an efficient solution when having to treat multiple lawns.
"It was our intention to deliver a more simplified and economical solution without compromising performance," says Samuel Wineinger, manager, T&O marketing & formulator business, Sipcam Agro USA. "We believe Coastal will deliver the knockdown results needed for an effective integrated weed management program."
In preliminary trials conducted by Mississippi State University, University of Georgia, University of Tennessee, North Carolina State University, Louisiana State University and Texas A&M University, Coastal had considerable control over Poa annua and Kyllinga as well as control over broadleaf weeds such as white clover and henbit.
It can also be applied at various times and still be effective, providing flexibility with application timings.
"Our trial results show Coastal has potential at different times of the year for controlling many weeds in one application," says Patrick McCullough, associate professor, crop and soil sciences at University of Georgia. "This makes it a good option to add in to a sequential program with other herbicides. It also fits in well with herbicide rotation programs, particularly for turf managers who may be concerned about Poa resistance to products with a single mode of action."
Ransome Attachments brings Gyru-Star screening bucket to U.S.
Ransome Attachments has reached an agreement to distribute the U.K.-based Gyru-Star compact screen bucket to the U.S. This attachment screens soils, aggregates, sand and compost without the need to shred or crush.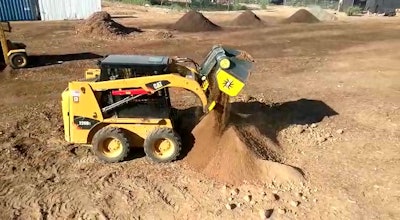 "Many of our customers are looking for cost-effective attachments that can do more with less," says Eric Ransome, owner of Ransome Attachments. "The Gyru-Star is a perfect complement to our attachment lineup because it not only delivers in these areas, but also brings a slew of additional features at a competitive price point."
The Gyru-Star stands out from other soil screening systems because it is designed specifically for compact excavators ranging from 2,000 to 50,000 pounds, as well as compact wheel loaders, skid steers and agricultural tractors.
The Gyru-Star's design has rows of rotating polyurethane stars that separate rocks and vegetation from the material to be screened. The unique shape, flexibility and spacing of the stars also eliminates the potential for clogging.
According to Ransome Attachments, it is best suited for landscaping and smaller scale contracting applications.
The Gyru-Star also uses a single-acting hammer circuit, unlike other screening buckets that require a double-acting hydraulic circuit.
Target Specialty Products debuts Turf Fuel The Kraken wetting agent
Target Specialty Products has introduced a wetting agent, Turf Fuel The Kraken, which is designed for turf surfaces that require the highest level of consistency.
"Through exhaustive university trials and close consultation with our network of industry experts, we have learned that professionals at the highest-level demand control over their soil hydration," says Mark Jull, head of Turf Fuel Products' division, at Target Specialty Products. "Kraken combines multiple components to provide ultimate control of hydration and firmness."
The Kraken can be used at any time of the season and has the ability to hold water consistently deep in the profile, but keeps the soil dry near the surface. It can also be used along with Turf Fuel Cleanse, Abyss and Vanquish depending on the season and soil needs.
Anthony Tesselaar Plants launches redesigned website
Horticultural project management company Anthony Tesselaar Plants has updated its website, so it is easier for visitors to navigate on desktop and mobile devices.
It takes two to three clicks to reach anywhere on the site and there is a considerable collection of photos that show plant closeups as well as in landscape settings. Users can search and view plants by categories like scent, foliage, etc. or by the brand.
Visitors can gather gardening ideas with the "Get Inspired" articles on topics such as attracting butterflies and creating texture in the garden.
Each plant page also has links to Tesselaar's collection of photos in Flickr, which can be downloaded in either low or high resolution. Tesselaar's Flickr site includes albums for each plant along with categories such as hedge plants, drought plants, container plants and cottage gardens. These images are available to garden centers, growers and garden media for use on websites, press releases, blog posts and more.