Editor's note: This is part of a multi-part series. The Attachments Idea Book was created to delve into the latest and most popular attachments and provide a comprehensive roundup of available attachments. Click here to download the PDF of the full Attachment Idea Book.
---
When it comes to hydraulics, high flow is sold as an upgrade option for those wanting to improve their efficiency or those in need of the right power for their attachments.
Opting to use high-flow attachments can seem like an unnecessary expense, with certain attachments such as augers having both standard-flow and high-flow models available. And high-flow attachments tend to run $1,000 to $2,000 higher than standard-flow options, depending on the manufacturer.
Yet while high-flow attachments and machines come with more up-front costs, they can earn back that money with increased productivity, our experts say. High-flow attachments perform more efficiently and complete jobs faster than standard-flow attachments.
Chris Trampush, a skid steer loader product manager with JCB, uses the example of clearing a three-acre field with a standard-flow mower attachment to explain the difference in efficiency.
"The blades on that attachment are not going to spin as fast as if I had a high-flow attachment," Trampush says. "So, it's going to take me twice as long to mow that field than it would with a high-flow mower where the blades are moving a lot quicker. Your high-flow mowers are only working 50 percent of the time versus a standard-flow attachment, where it would run the entire time."
And high-flow machines are also more versatile, since they can run both standard-flow and high-flow attachments.
If you have a variety of jobs, a high-flow machine and attachment will cover most job demands, says Dan Kakareka, product specialist – CE Products, New Holland North America.
Follow the Triple A rule of "application, application, application" when determining whether or not to use high flow, says Diego Butzke, backhoe loader product manager, JCB.
"Usually, people go backwards," Butzke says. "They have a machine, or they want to use this machine and then they want to hook up an attachment to do a certain job. They should look to their application, determine which attachment is productive and then go back to the machine and find the right machine to hook up that attachment."
Make sure you don't waste the high-flow capabilities of any machine you buy, Kakareka says.
"If you're going to spend the extra money to get high flow on your skid steer, spend the extra money on the high-flow attachments so they run more efficiently and perform better," Kakareka says. "In the long run, they're going to cost less and save you money and they're going to perform better."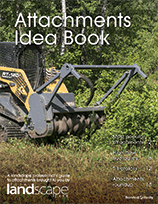 Want to download the entire Attachments Idea Book series from the editors at TLC, which includes information on all the latest popular attachments?
Busting myths about high-flow attachments
Myth No. 1: Standard-flow machines can run high-flow attachments
When high-flow attachments do not receive the flow they require, it will result in inefficient operation and can even damage the machine or attachment. Trampush compares running a high-flow attachment on a standard-flow machine to having a fan on the lowest setting, where it's barely blowing at all.
"If an operator has a high-flow attachment and hooks it up to a standard-flow machine, the pump will not be large enough to turn that attachment quickly enough to complete the task at hand," says Gregg Zupancic, product marketing manager, skid steer loaders & compact track loaders, John Deere Construction & Forestry. "This would cause the attachment to be underpowered and would take longer and may not even complete the job at all."
And trying to run high-flow attachments on a standard-flow machine can damage the attachment.
"Let's say I have a standard-flow attachment and the lines can only handle 28 gallons per minute standard flow, and then I have a high-flow machine and I kick my high flow in and I'm running 33 gallons per minute," Trampush says. "You could potentially burst the hydraulic lines to the attachment."
You could also damage the attachment by creating leaks or even destroying a motor, Zupancic adds.
Myth No. 2: High-flow attachments are not worth getting.
The bigger question is where they might fit in your future business needs, not initial cost.
If you have a standard-flow machine and a future job requires high-flow capabilities, that may require you to buy another machine, Trampush says, thus increasing your costs even more.
Myth No. 3: You only need to look at GPM when determining an attachment's productivity.
Engine horsepower and pressure also affect productivity.
"You may have a high-flow system that's capable of drawing 90 horsepower but if you've only got an 80-horsepower engine, you'll never actually be able to capitalize the full potential of that high flow," says Buck Storlie, product line manager for ASV. "Whereas conversely, you might have an engine that's 100 horsepower, but a flow system that's only capable of 70 horsepower, you're never able to run your full engine capability either."
Butzke adds that landscapers shouldn't forget to look at the pressure as well when matching attachments to their machines.
"Flow will give you speed while pressure will give you force, or power," Butzke says. "So, the customers need to watch not only flow, but also pressure requirements on both sides — the machine and the attachment — to make sure that they are matching everything. Otherwise, hoses will burst or they permanently damage both the machine and attachment."
Challenges of high-flow attachments
While high-flow attachments are the clear winners for efficiency, one big drawback is the extra heat they generate.
"I think probably the biggest thing that's overlooked by customers would be cooling capabilities," Storlie says. "One of the really important things with a high-flow machine is to have an appropriate cooling package to go along with it.
"You're demanding more of the machine, therefore you need better cooling capability and you need durability and reliability from that machine because high-flow attachments tend to have a higher demand," Storlie says.
"With a larger pump and more flow, the machine will need an advanced cooling package, such as a larger hydraulic cooler or radiator," says Zupancic. "It is critical that you keep your cooling system and radiator clean and clear of debris. High-flow attachments can accumulate debris while the fans are trying to cool the engine, and debris can get sucked in and damage the engine."
Zupancic also recommends checking hydraulic fluid levels daily. If the machine's hydraulic levels are too low, it will generate more heat, which can wear down the lifespan of the machine.
Make sure you keep the hydraulic system clean, Kakareka adds.
"High-flow systems are designed to run extremely efficient," he says. "With today's advanced hydraulic systems, the big thing is that there's little acceptance of contaminants in the systems."
A hydraulic fluid sample kit is recommended, Zupancic says. "These kits help you sample the fluid and check the fluid's quality by sending it to the dealer's lab where they can determine if there are any contaminants in the fluid caused by use, damaged attachments or rental attachment fluid," he says.
"Maintaining high-quality fluids will extend the life of the attachment, and reduce rubbing of debris on the gears," Zupancic says.
Be sure to follow the OEM's maintenance schedule for both the machine and the attachment, Kakareka says. "These will keep it up and running with excellence performance," he adds.