Editor's note: This is part of a multi-part series. The Attachments Idea Book was created to delve into the latest and most popular attachments and provide a comprehensive roundup of available attachments. Click here to download the PDF of the full Attachment Idea Book.
---
Landscapers use a variety of attachments for doing everything from snow removal to jobsite cleanup, and regardless of how often they are used, every landscaper has a favorite attachment.
Total Landscape Care reached out to experts from John Deere, ASV and Toro to find out which attachments seem to resonate with landscapers.
Buckets (specifically a 4-in-1), pickup brooms, augers, nursery or pallet forks, forestry mulchers, landscape rakes and trenchers topped the list, according to these experts.
Buckets and pickup brooms
Buckets are basic.
"They're used for anything from moving materials around the jobsite, digging, grading and carrying loads," says Kyle Cartwright, marketing manager with Toro. "So, it all centers on the bucket itself."
Buck Storlie, ASV product line manager, says the 4-in-1 bucket is the most popular type of bucket for landscapers.
Compared with a standard bucket, "once you've dumped the material, you can also open the 4-in-1 bucket and dump, drag and level the material a little quicker," says Storlie. "You can also work a little closer to objects, such as buildings, see your edge and put on a nice finish."
Because landscapers must always make the most of their time and the amount of space available to haul equipment, having attachments that can serve multiple purposes helps landscapers get a higher return on investment, according to Justin Stegar, inside district manager for John Deere, compact construction equipment.
"Landscapers value versatile attachments that save time and that they can use across multiple jobs," says Stegar. "Multi-purpose buckets are capable of bulldozing, scraping, loading, metering and clamping material, which can be extremely beneficial for maintenance or installation."
Whether a landscaper is developing and shaping a project site, clearing rocks or debris or loading material in and out, Stegar says a multi-purpose bucket will be able to handle it all.
Grant Van Tine, product marketing manager, compact wheel loaders, John Deere Construction & Forestry, says because of their versatility, general purpose buckets are one of the most used attachments among landscapers.
Van Tine also notes that the use of pickup brooms comes in handy during and toward the end of a project.
"With these tools, compact wheel loaders can handle a majority of the materials that a landscaper will load, unload or transport on a jobsite," he says. "Pickup brooms are also great for cleaning up hard surfaces like decorative patios, sidewalks and parking lots during landscape construction."
Forestry mulchers and landscape rakes
Storlie says he's seen a high demand for forestry mulchers.
"When (landscapers) are using this specific attachment, guys can go in and clear a piece, particularly underbrush or larger stuff if necessary, and do that initial clearing," he says.
The landscape rake has also proven to be an extremely popular addition for landscapers, and Storlie says it is a productive finishing tool for putting in new lawns and similar projects.
"The landscape rake generally comes into use at the end of a job," says Storlie. "If you're trying to break up clumps of sod or have materials down that aren't laying nice for you, the landscape rake can go through and aerate the soil, clear out the debris in the soil and bring it to the surface so you can pick it out and make the soil ready for seeds."
Landscape rakes also work well with compact track loaders (CTLs), Storlie says.
"In extreme terrains, the CTL mates well with the forestry mulcher because you can get on steep and wet terrain," Storlie says. "CTLs pair well with the landscape rake because of the low ground pressure of a CTL. CTLs can go onto that thinner surface without doing a lot of damage, so you can use the landscape rake and not compact the soil."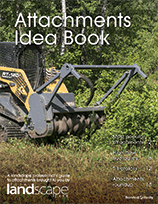 Want to download the entire Attachments Idea Book series from the editors at TLC, which includes information on all the latest popular attachments?
Forks, augers and trenchers
Rounding off the list of popular attachments are nursery and pallet forks, augers and trenchers.
Because professional landscapers move a variety of materials, Van Tine says they typically use either a nursery or pallet fork in day-to-day operations.
"Nursery forks have a hydraulically actuated arm that make them ideal for picking up trees, large planters, containers and decorative rocks," says Van Tine.
"Trenching and augering cut down on actual hand labor and those attachments are quicker and more efficient for the landscapers," Cartwright says.
Buying versus renting
Whether landscapers should buy or rent an attachment ultimately depends on how much the attachment will be used.
"If (landscapers) aren't doing irrigation all the time, then buying the trencher probably isn't for them," says Cartwright. "It all boils down on the return they will get on it, and if they are short on labor, these attachments can help them be more efficient and effective in what they do from day to day."
According to Storlie, the typical purchase price on a landscape rake is estimated around $10,000, depending on the size of the rake.
Since forestry mulchers are a more expensive tool, it's recommended that a rental option be considered before purchasing one outright. If you're using a drum-style mulcher, Storlie says the estimated cost will be around $35,000 or more. There are some lower cost disc-style mulchers, he adds, and those tend to run closer to $20,000.
"The price between those tools really depends on what kind of finish you're looking for when you're done," says Storlie.
Mulching companies use mulchers on a daily basis; therefore, they tend to buy these attachments. The same is true with landscapers and landscape rakes, Storlie says.
"If it becomes something you're using infrequently or only on an occasional job, it's a rental item," Storlie says. If you use it on every job, however, you'll want to own the attachment.
Ultimately, experts agree that you need to decide what's best for you by looking at how often an attachment will be used, its typical lifespan, your budget and the potential repair or replacement cost.