Editor's note: This is part of a multi-part series. The Attachments Idea Book was created to delve into the latest and most popular attachments and provide a comprehensive roundup of available attachments. Click here to download the PDF of the full Attachment Idea Book.
---
Tackle trees, brush, grass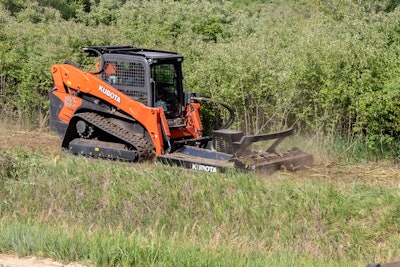 The Kubota SC70 Skid Cutter is a 6-foot-wide heavy-duty attachment with a 7-inch cutting capacity for tackling small trees, shrubs, bushes and grass. Designed for Kubota's SVL95-2 compact track loader, the deck and side skirts are made of quarter-inch steel. The three-piece deck design has fewer weld points for added strength. Standard safety features include front and rear chains, a pusher bar and a patent pending bi-fold door that covers the cutting chamber when not cutting in heavy brush. A case drain and motor pressure gauge are optional.
Rip, pry, load stumps with one tool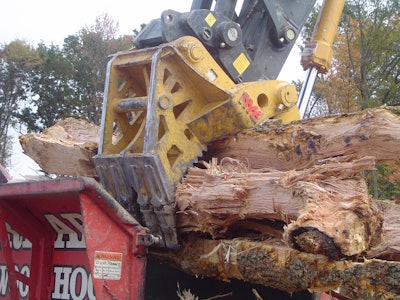 Nye's Ultra Heavy-Duty Stump Harvester can rip, pry, shake, split, crosscut and load. The company says it can split any stump that fits its jaws and harvest stumps in place. It can remove dirt and rocks from stumps before they are processed. The main cutting blade is situated on the operator's side for better visibility and control. The attachment is made of quenched and tempered alloy steel with hardened alloy pins and bushings. The teeth are replaceable, and the blade can be sharpened easily, the company says. The harvesters come in hydraulic and mechanical models.
Clear path in deep snow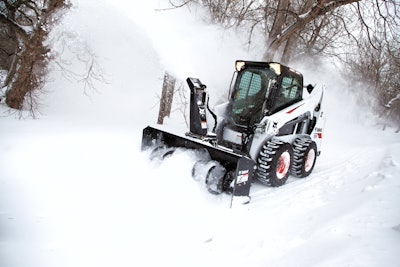 Bobcat's snowblower attachment is designed to create a clean path even in deep snow banks and hard-to-reach spots, such as the middle of lawns, ditches or wooded areas beside a path. The blower's chute rotates 276 degrees and can be adjusted up or down to place snow where you want it. The chute rotates by a chain and sprocket system, which means no loose, tangled or frozen cables. The blower comes in high-flow models that deliver added hydraulic power for heavy or compacted snow. The cutting edge is replaceable, and the skid shoes can be adjusted.
Grade with ¼-inch accuracy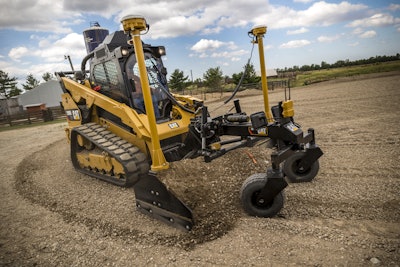 The Cat Box Blade, designed for Caterpillar's skid-steer, compact-track and multi-terrain loaders, grades and levels large commercial properties with accuracy levels within one-fourth of an inch when used with Accugrade technology, the company says. The Box Blade comes in 7- and 8-foot models that operate manually or automatically with a laser or GPS grading system. The attachment is designed for such grading projects as housing pads, roads and parking lots. It features dual slope capability, which increases efficiency and savings, the company says.
Low recoil, few moving part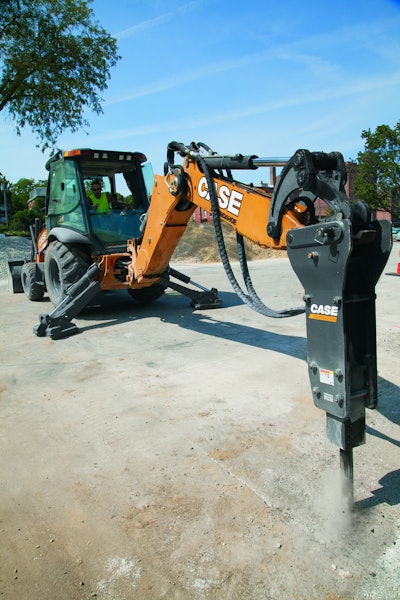 Case Construction Equipment's hydraulic hammers have only two moving parts and isolate every blow from the operator and carrier. The hammers are pre-assembled and made for Case backhoes, excavators, compact tractor loaders and skid steers. The blows are isolated in the cushion chamber, and recoil energy is recycled and used for the next blow. The long-stoke piston facilitates energy transfer and recoil reduction. Case hydraulic hammers come with a gas recharge kit and a three-year warranty.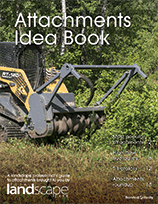 Want to download the entire Attachments Idea Book series from the editors at TLC, which includes information on all the latest popular attachments?
Remove stumps in one pass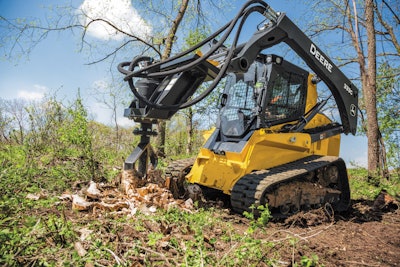 The SS30 Stump Shredder from John Deere removes stumps ranging from 8 to 28 inches in one pass. Larger stumps can be removed with multiple bores, the company says. It can bore down to 20 inches to remove roots. The SS30 is geared toward Deere's new mid- and large-frame G-Series skid steers (320G, 324G, 330G and 332G) and compact track loaders (325G, 331G and 333G). The shredder was designed to reduce high-speed flying debris with a low-speed, high-torque planetary drive. It produces a small contained chip pile to make cleanup easier.
Lift rocks with minimal energy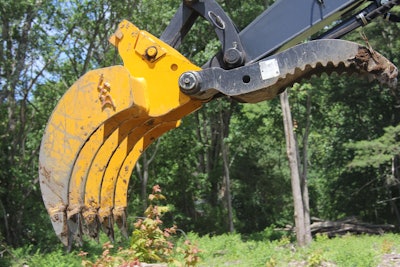 The Fang Rake from Leading Edge Attachments allows the operator to comb the ground to remove stumps, brush and rocks. The tines are made of Swedish Hardox 400 alloy steel and are shaped to lift rocks and pull roots with the least amount of energy. The tines have no cross members and are thick and spaced far enough apart to allow small debris to sift through. When used with a hydraulic thumb, the rake acts similarly to a grapple, able to grab stumps and boulders to be removed or positioned.
Mow hard to reach spots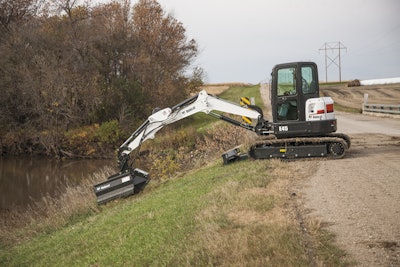 The flail mower by Bobcat can mow hard to reach places, including hillsides, roadways, ditches, riverbanks. Its triple-knife flails allow operators to mulch small branches, saplings, thick grass and vegetation as large as 4 inches in diameter, the company says. Side safety chains keep debris within the housing. The rotor brake stops the attachment within 7 seconds after hydraulics are turned off. A rubber torsion disc absorbs impact loads, and heavy-duty flanges on both sides of the rotor protect the drive train from dust and debris.
Pushing widths up to 10 feet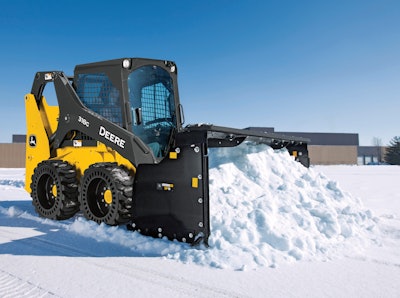 John Deere's Snow Pushers can create paths ranging from 8 to 10 feet, depending on the model. The attachment is designed for clearing sidewalks, parking lots and driveways. The pushers feature reversible, replaceable rubber cutting edges. A pullback edges is an available option for opening confined areas and working around vehicles, buildings, fences and other obstructions. The Snow Pusher is available in two models, the SP8 (8 feet) and SP10 (10 feet). They are compatible with Deere and competitive brand skid steers and compact track loaders.
Quickly switch buckets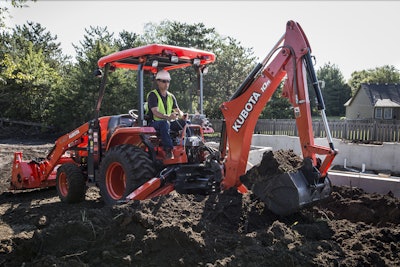 Kubota's K7543 Quick Coupler is designed for fast bucket changes for the company's tractor-loader-backhoe (TLB) series. It is compatible with the L47 and M62 TLB models. The coupler is also compatible with select Kubota compact excavator buckets, tilt buckets, grading buckets, trenching buckets, grading blades, cemetery buckets, frost rippers and excavating rakes.
EDITOR'S NOTE: This article was written by Don McLoud, managing editor of Equipment World, a sister publication.