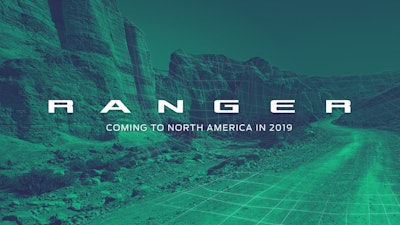 With the North American International Auto Show barely underway, Ford stole the stole the show early Monday morning by confirming the resurrection of two of the company's most popular brands.
Following more than a year of speculation and years of online car-forum wishful posts, the Detroit-automaker says it's bring back the mid-size Ranger pickup for the 2019 model year and the iconic Bronco SUV for model year 2020.
Joe Hinrichs, Ford's president of the Americas, says the 2019 Ranger— the best-selling pickup in Europe—will feature unique styling and engines for its re-entry into the U.S. market after being discontinued here following the 2012 model year.
In a follow-up tweet Ford spokesman Mike Levine added a bit more context to Hinrichs' Ranger comments saying "The all-new Ford Ranger will be tailored to the needs of North American customers with unique front styling, engines and features." That means the North American Ranger will likely look different from the Euro-centric styling of the Ranger still being sold internationally.
The 2020 Bronco will be a "no compromise 4×4 utility," Hinrichs says, "… capable of conquering everything from your daily commute to gravel roads and boulders."
In another tweet, Levine added that the new Bronco "will be body-on-frame."
Ford shelved its Bronco line after the 1996 model year.
Both vehicles will be manufactured at Ford's Michigan Assembly Plant in Wayne, Michigan.
Raj Nair, Ford's chief technical office says Ranger and Bronco join a product rollout that will introduce 13 electrified vehicles in the next 5 years, including an F-150 hybrid.