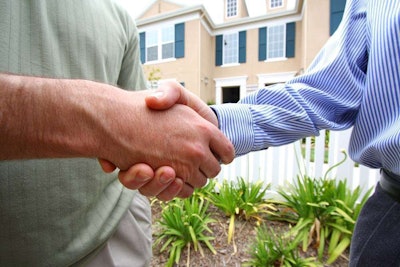 Today's homeowners often know exactly what they want when it comes to landscaping their yards. But many of them don't have the time to do the work, so they contact your company to help make their vision a reality. And that's generally a good thing.
The downside to this arrangement is that these same homeowners have little or no understanding how to bring their dream projects to fruition. Cable television and programs like those on HGTV provide plenty of ideas, but don't offer much information on real world pricing and job requirements. So how do you make customers with unrealistic ideas understand the complexity of the landscaping job they're asking you to do without losing their business?
Randal Norville, owner of The Lawncare Source in Newbern, Tennessee, says the first thing he asks his customers about is their budget. "Because most of the time, money is a big thing," Norville says. "I ask them to tell me what they want to spend, and I have that in mind as I come up with the design."
Norville then asks for the customer's ideas. This is the part that can be tricky. "A couple of years ago, a client had a small area to work with, but wanted to incorporate many design elements, and it was going to take a lot more space than they had to work with," he says. Norville thought seeing the scale of some the plants she wanted might jolt her to reality. "So I took her to the nursery to show her what plants could go in her yard and what wouldn't. Some people understand it, but others – who don't mess with their landscapes – don't and need a little visual help sometimes."
Listen to what the customer wants and envisions
Bill and Linda Lillie of Sprigs & Twigs Landscapes in Gales Ferry, Connecticut, have devised a method for dealing with customers that includes listening, educating and adapting. Linda asks a lot of questions and takes extensive notes when she meets with a client for the first time. "Walk around the site and have the customer describe exactly what they want," she says. "I've had plenty of people who wanted certain plants incorporated that weren't appropriate for their landscape.
"We had a customer who lived in Pennsylvania and was always working with shade plants," she explains. "The customer bought a new house on the Connecticut shore, brought shade plants with her and planted them in full sun near the salt spray. I had to explain to her that they would be better off in the back yard because the salt would act as a toxin to those plants. In their place, we installed other plants that still provided a lot of color and shade, but were better suited to the seaside environment."
The lesson is a basic one: Be sure to listen and make the customer feel that they are part of the process. At the same time, remember that you are the expert, and you are professionally obligated to bring your experience and knowledge to educate the customer throughout the project.
Educating sometimes means delivering bad news
It's important to give customers the pros and cons of their vision before any work begins. Giving a customer what they want without explanation can be a negative for your business if the customer isn't happy with the final product.
"I encounter a lot of people who want English tea gardens," Linda Lillie says. "They want that traditional image they see in their minds with all the associated color and activity with birds and butterflies."
In reality, though, Lillie says English perennial cottage gardens require a lot of maintenance. But she's found a happy medium: "I add shrubs that bloom and pockets of perennials that add the color the customers want without the intensive maintenance a more traditional plant palette requires," she says.
"If people insisted on things that we know won't fit their vision and we didn't educate them, it would reflect badly on us," explains Bill Lillie.
Adapt the customer's vision to their climate and landscape
Even though the customers you deal with have different needs, your approach to unrealistic demands is essentially the same.
It's all about delivery. Let them know, 'I hear what you're saying, I understand what you want, but realistically it isn't going to fit in your yard.'
Above all, make sure that you earn the customer's trust. Some customers may come to the table misguided by a previous landscaper or contractor. At your first meeting, have notebooks and photos of your work available for the customer to look at. Also try to provide a sample of their proposal and design idea; this lets the customer see something concrete as opposed to just talking about it.