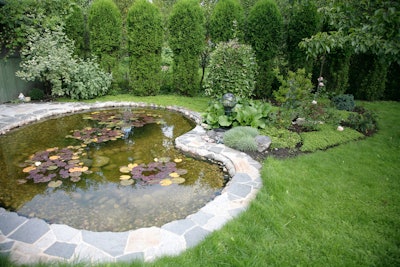 Ed Beauilieu is vice president of construction for Aquascapes Inc., a leading manufacturer of water garden products based in St. Charles, Illinois. The aquatic biologist-turned-pond builder specializes in all aspects of pond design, construction, maintenance, biology, water quality and filtration for residential and commercial water features. He says a customer who enjoys his backyard pond will become a better steward of the environment as they play host to the interrelationship of organisms – frogs, fish, plants and birds – in the ecosystem of the pond.
What seems to drive the trend to put in ponds?
EB: Water features like ponds and water gardens have always been hugely popular in Europe where it's estimated that 10 percent of all gardens incorporate a waterscape of some kind. The growing demand for water features in the United States corresponds to the trend toward families with less free time choosing to upgrade their homes into vacation spots. Clients are looking for an oasis in their own back yard.
Have ponds overtaken pools in popularity?
EB: Ponds are much lower maintenance and more environmentally friendly with no toxic chemicals. It's a more ecological decision that fits in with the trend toward a "greener" way of life. They are also more versatile with space constraints and can be designed to enhance any architectural style.
What's the projected outlook for growth?
EB: The market has steadily increased for the past 10 years with no signs of plateau. We project the strong demand for ponds and water features to continue.
What are the most-requested water features?
EB: Small waterfalls, bubbling statuaries, fountains, the new pond-less waterfalls and of course, ponds of all shapes and sizes including traditional koi ponds.
What are the popular pond sizes?
EB: Ponds range in size from a 4 ft by 4 ft on up. We have ponds for backyard decks all the way to large recreational ponds. One job was a pond that extended over 2 acres. The customers could raft, snorkel and swim in their "lakefront" property. Many of my clients say they like to spend the night next to their pond.
How ecological are the ponds?
EB: Our ponds use earth-friendly, biological filtration systems to provide good water quality. As wild habitats are depleted because of commercial development, pieces of the ecological puzzle are depleted. A backyard water garden or pond restores one of these pieces to the ecosystem. So don't just see a pond as an independent, unrelated element. See it instead as part of the big picture – the regional environment.
That's a lot of information to convey. How do you educate your customers on all the aspects of maintaining their ponds?
EB: We offer educational seminars for contractors such as Build-a-Pond day, Pond College, Pondemonium Aquascape contractor certification programs, DVDs and Web information all designed to educate the customer. Aquascape started the National Association of Water Garden Systems (www.nawgs.com) – an organization for homeowners and hobbyists. Investing in the education of the customer is better for us in the long run and results in repeat business and new client recommendation.
What's the difference between a koi pond and a pond?
EB: A koi pond is designed solely for the viewing of the fish. A pond appeals to a wider market, is more of a focal point and is designed to blend into the landscape, flowing with the walkways and plants. Actual koi ponds make up only about 5 percent of the pond market.
What is the appeal of koi?
EB: The koi make fascinating pets that have real personalities. Owners say they feel a sense of peace and tranquility around their koi. Our own pond has about 50 large koi and they have a whole hierarchy. We hand feed them and there's the aggressive leaders all the way to the shy ones.
Are there hardscape considerations with koi ponds?
EB: Koi have natural predators like the Great Blue Heron, hawks, eagles and in the South, some snakes will feed on koi. But you design the pond with caves and rock ledges where the fish can find safe zones.
How much value does a pond add to a house?
EB: You should be able to recoup 150 percent to 200 percent of what you put into a water feature like a pond. If you put in a backyard pond for $5,000 you can expect to increase the home's value by $12,000. Ponds have a universal appeal, unlike pools.
Is this a good niche for landscapers?
EB: Absolutely. My advice is to get educated: Attend a certification seminar or any of the pond programs available throughout the country such as Aquascape's Pond College. We sell to more than 60,000 contractors, and the market continues to grow.