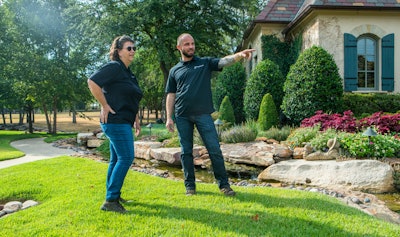 Grassperson
For many of your clients, growing grass in the shade may feel nearly impossible. Perhaps they have a property with a lot of trees, and as a result, they have a lot of bare patches and dirt.
Jack Moore, owner of Grassperson Lawncare & Landscape in Lewisville, Texas, says that grass in shaded areas under trees is often thin or discolored. It is also more susceptible to weed pressure as these areas are already struggling. If his clients have areas like this on their property, he suggests the following solutions.
Set realistic expectations
First and foremost, Moore says that it's critical that clients have a clear understanding of what is and isn't possible. While there are shade-tolerant grass types out there, all grass needs at least some sun to grow. The very existence of shade-tolerant grass seed can set clients up with false hope.
That's why Moore says the first step needs to be client education—and helping clients to understand that heavily shaded areas where little to no sunlight is filtering in may be difficult to grow grass in.
"We also want clients to understand that they need to choose a solution that will work best for them," Moore says. "There is no one-size-fits-all approach to this."
Pruning trees for more sunlight
One potential solution is to suggest tree pruning. Thinning the trees will allow more light to filter through and could help the grass to grow more in these areas.
"If both the trees and the grass is important to the client, this may be their best option," Moore says. "We'd also suggest that they give those shaded areas some extra TLC. Since it's already a struggle to grow grass in the shade, you want to do everything you can to help give those areas an extra boost. That means encouraging your clients to sign on for lawn aeration. You also want to encourage your client to water those areas properly."
Moore says that because weeds tend to thrive in shaded areas, they might also take a more aggressive approach to weed control. Opportunistic weeds love to take advantage of grass that is struggling to grow. So, ramping up the weed control efforts will be key.
Of course, it's important that you're growing a shade-tolerant grass type in these areas because filtered sunlight is not the same as direct sunlight. And even with the grass type, you may need to advise clients that these particular areas of the property may still be thinner than other spots. Again, it's a matter of setting your clients up with realistic expectations.
Remove the trees
Most people really do not want to remove their trees. But if the grass is incredibly important to them, then this is another option.
"It comes down to having that conversation with the client and what their goals are," Moore says. "If a healthy and thick lawn is really important to them, this could be the best path. After the tree or trees are removed would recommend re-sodding the areas that have been struggling."
Consider a grass alternative
Of course, grass isn't one's only option in the yard. Moore says that some clients are happy to consider a grass alternative if it means their yard will look nicer.
"We can create large mulch rings around a tree using decorative stone or mulch," Moore says. "We might also suggest plant beds with shade-loving plants—or attractive boulders. Anything that does not need lots of sunlight could be a solution."
Keep clients happy with good communication
At the end of the day, it boils down to great communication with clients, Moore says. Only then, can you find the solution that will work best for them. While some clients may be unhappy that there's no magic potion for growing grass in the shade, they'll appreciate that you're being transparent and honest with them—and helping them find a way to solve their problem.