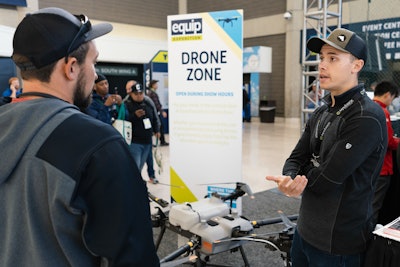 Equip Exposition
Smart lawns and landscape lighting? Autonomous mowers? Drone and artificial intelligence-aided landscaping designs? It's all at Equip Expo, which is being held October 17-20, 2023 at the Kentucky Exposition Center (KEC). This industry trade show is where landscapers and outdoor power equipment dealers can see new, industry technology, including business software, drones, irrigation and lighting technology, robotic and autonomous equipment, connected equipment systems using GPS, battery and electric innovations, and the latest engine technology.
"Equip Expo is where the industry's manufacturers and technology providers debut the latest tech. There's simply no better place to see it all. Not only that, you can test it," said Kris Kiser, President and CEO of the Outdoor Power Equipment Institute (OPEI), which owns Equip Exposition.
Expo offers more than 675,000 square feet of indoor exhibit space, in addition to a 30-acre Outdoor Demo Yard to "try before you buy" the latest tech and equipment as well as discuss new business ideas.
An evolving show
Equip Exposition will have more than 125 exhibitors with technology-related offerings.
"It has evolved immensely from an equipment show to a show where you can get a ton of knowledge on different products," said Gage Roberts, who exhibited with Aspire Software at the show last year.
Kiser adds, "Equip Expo is where you can see and experience new capabilities before they're on the market and in the hands of your competitors. The Outdoor Demo Yard, The Drone Zone, the vendor exhibits – it's all set up for the landscaper and dealer to get their hands on the latest tech before anyone else."
That access is appreciated by attendees. "It's all a plus when you can have all that within one facility where you can talk to some people and get information," said Eric Hannett of Mobile-1 Lawn Service who attended the show last year.
The newest technology
Attendees at the show gain access to the engineers and developers who created the technology and learn how it can benefit their businesses and business bottom lines.
Drone technology, for instance, is revolutionizing how landscaping is sold, designed, and built. From creating 3D renderings and estimating to documenting progress and showcasing products with fly-through videos, drones can give landscape contractors a competitive edge.
Registrants can even win a drone each day of the show to take home and work toward their FAA remote pilot certification for drone operation at Expo.
The Drone Zone in the West Wing will offer hands-on training right on the exhibit floor. Attendees can test their abilities in a flight simulator and then step into The Drone Zone to fly a drone with an expert trainer.
For information on exhibit space sales and sponsorships, contact the Equip Exposition office at info@equipexposition.com or call 502-536-7050.