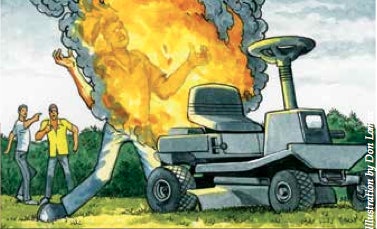 The accident: With a small section of grass left uncut, the riding lawnmower a landscape worker was using at a residential property ran out of gas. The rest of the maintenance crew had finished work and was gathered by the company truck, waiting. The lawnmower operator, who was new to the company, grabbed the gas can from the trailer, quickly unscrewed the machine's fuel cap and tilted the can to fill the tank. Gas sloshed out of the container onto hot parts of the lawnmower, which caught fire. The man suffered burns on 17 percent of his body and spent 16 days in the hospital.
The bottom line: Wait until the engine has cooled before fueling any equipment. Refer to the machine's operating manual to find out how long you should wait after shutting down the engine. Use a funnel with the fuel container to ensure fuel doesn't spill. If the container is equipped with a nozzle, ground the nozzle against the filler neck.
The most common cause of thermal burns in the landscape industry is contact with extremely hot surfaces, says Chris Cipriano, president of Cipriano Landscape Design in Mahwah, New Jersey. "The inner workings of gas-powered landscaping equipment tend to become very hot after continuous use," Cipriano says. "When something goes wrong with a piece of equipment, workers sometimes get impatient and attempt to fix the problem without turning off the machine or taking necessary precautions."
To reduce your risk of suffering a burn injury, follow these tips:
· If you have to unclog a chute, turn off the engine first. Wear gloves and use a stick, not your bare hands.
· Disconnect the spark plug before working on a machine.
· If equipment has been running a long time, let it cool down before making any adjustments.
· Use appropriate guards and shields to keep your body away from hot equipment parts.
· Avoid loose-fitting clothing that might catch fire on hot surfaces. If fuel gets on your clothing, change into clean clothes.
· Don't remove a radiator cap until the coolant has cooled off.
· Never smoke while handling fuel or working on a fuel system. Keep all sparks and open flames away from fuel.
· When inspecting a hydraulic system, wait for fluid to cool before disconnecting lines. Check for leaks using a piece of cardboard or paper instead of your hand.
· Store fuel in a container approved by Underwriters Laboratories. Ensure containers are clean and in good condition.
· After refueling heavy equipment, wait a minute to allow fumes to dissipate before starting it to avoid igniting fumes. Move smaller, portable equipment at least 25 feet from the refueling location before starting.