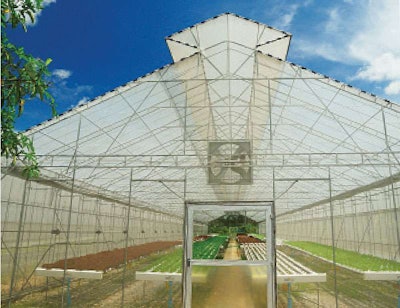 The demands of combining landscape and nursery businesses
By Carolyn Mason
It begins with a logical question: Why should I pay a wholesale distributor or plant broker for my landscape plants and trees when I could grow them myself?
After all, most landscapers are good with plants, soil and maintenance, and already have a built-in customer base: their clients.
How hard could it be?
"Plenty hard," says Tony Avent, owner of Plant Delights Nursery in Raleigh, North Carolina, and author of So You Want to Start a Nursery, considered the bible of nursery owner wannabes.
"Just because you like to grow plants doesn't mean it's a good reason to start a nursery. It's like saying you like to cook, so you should start a restaurant."
He's seen both sides of the equation – landscapers who add a nursery to supply their landscape business and nursery owners who figure they ought to get into the landscape business.
"While landscaping is by far the most profitable, most folks who try both tend to either go bankrupt or end up in the nursery business," Avent says.
Seeds of change
Landscapers wanting to start a nursery usually start as landscapers who are unable to get the plants, quality or sizes they desire from nearby nurseries, he says. The nursery's first function is to supply their landscaping business. Once the landscapers realize they can't predict demand any better than the nurseries they were buying from, they start wholesaling their surplus, and the rest, as they say, is a slippery slope.
The nursery business, like the landscape business, ebbs and flows with the housing market, and its profitability is dependent on the economic health of the area. However, there are exceptions.
Successful owners wearing dual hats describe their experience as positive but not something they take on lightly. For some, their nursery business weathered the recession better than the landscape side. For others, it's a cautionary tale of taking on more than you can handle.
If you are interested in starting a nursery business in conjunction with your landscape one, the most important advice from those in the field is to research the industry, develop a business plan and view the decision as if you were starting a brand new business.
Trial and error
For some owners, the dual business emerged through trial and error during several generations.
One such owner is Paul Kjeldbjerg, founder of Poul's Landscaping and Nursery, a nursery, landscape design and construction firm in Long Grove, Illinois. Kjeldbjerg started the landscape company in 1966 and added a nursery business in 1986. Today, his two sons run the business – Dan operates the financial and construction side, and Alan oversees the 165-acre wholesale nursery and retail garden center business.
They operate under the family umbrella but run separate companies. Alan, who has a degree in horticulture, says the nursery provides the landscape business with nearly 60 percent of materials and perennials and 100 percent of trees and evergreens.
"Customers have the advantage of being able to walk in, pick out their plants and trees and be part of the process from beginning to end," he says.
Kjeldbjerg's nursery business accounts for about 20 percent of the overall company profits, but Alan says the contributions go deeper than a spreadsheet might show. The companies complement each other in marketing and brand awareness, and they often share labor pools during off-season.
Like Kjeldbjerg, some established landscape/nursery business owners say they enjoy the synchronicity of running an operation from the ground up. Connie and Steve Emerson own Royal Landscape in Gotha, Florida, and operate a nursery that sells wholesale and retail, a retail garden center and full-service landscape business.
The three branches of the business, wholesale/retail/landscape are easily tweaked depending on the economy, buying trends and changing business models. Connie says they trimmed back their landscape side to ride out the economic downturn but have the luxury of being able to expand the nursery side.
The Emersons have operated both the nursery and landscape business since 1997 but started focusing on the nursery in response to the slow economy and the high costs of fuel and labor, which hit the landscape side of the business harder. The nursery now accounts for 50 percent of their business and continues to expand, Connie says. They grow on 46 acres and sell wholesale to other landscapers and through their retail garden center, along with supplying their landscape business.
"Growing, landscape and retail are definitely three different animals, and while I can wear any of the hats, I mostly focus on the nursery side," she says.
Connie says she meets landscapers all of the time who say they want to get into the growing business. "It's not something you just jump into," she advises.
"Most people don't consider complex requirements such expertise in chemicals, pest control, government regulations, irrigation, diseases, water shortages and restrictions and the balancing act of anticipating demand, ordering supplies and managing a labor force," she says.
"Add all of the required expensive start-up equipment such as loaders, Bobcats, tractors and then the property and laying of irrigation lines and you have a hugely complex operation."
Bobby Franz would agree. Franz, owner of Franz Landscaping and Nursery in Hamilton, Indiana, says his family-owned company started as a nursery and then added landscaping. He now runs the dual businesses separately. While he enjoys the nursery side, he says it is always a battle. "You have to fight weeds, disease, competition and figure out how to manage the inventory. Our business model has evolved over 50 years with constant refiguring of all three sides – growing, retail and landscape."
The big-box stores loom over the business, but Franz says his customers are different. "The difference between the people who come to our nursery and those who go to a big-box store is like the difference between going to a fast-food joint versus a steak restaurant," he says. "Two different experiences, and you are willing to pay more for the higher quality product and service."
Landscaper to grower
One landscaper turned grower, Claire Butler, says she dropped the landscaping side when she became more interested in growing. Butler started Meadowlark Nursery in her backyard in Redwood City, California, to supply hard-to-find perennials for her landscape installations. In 1989, she moved the nursery to its present location in Northern California.
"It's a full-time job, and the idea that you can grow plants on the side or grow unusual plants that are hard to find in a wholesale nursery sounds good in theory, but there's usually a reason the plants are hard to find," she says. "Either they are hard to grow, hard to find, difficult to grow in containers or are prone to diseases."
Butler grows on speculation, which is challenging during economic hard times. "You are better off buying your plants from an established wholesaler instead of investing money and time in something so uncertain," she says. She still does design and installation for some customers but prefers to focus solely on her nursery business.
The no-grow option
There are many different combinations of retail/wholesale nursery and landscape, but Steve Tilleraas, owner of Tilleraas Landscape & Nursery in Great Falls, Montana, says he's got the best of all the worlds. He operates a landscape business and garden center but doesn't grow any of the products he sells in the garden center. "I buy everything wholesale," Tilleraas says. "The retail shop brings in customers for both the landscaping and the garden center, and I can count on being fully stocked for both."
Still want to grow?
If you are not daunted by the considerable start-up expenses, such as purchasing land, building, materials and equipment costs, your next move is to step up the learning curve. Check with your local college, university or extension service about horticulture and nursery management courses, read everything you can about the industry and take the time to develop a comprehensive business plan.
"I know it sounds like I've described the headaches more than the joy of owning a nursery," Connie says. But despite the challenges, she says she loves going to work at the nursery and interacting with customers.
"Unlike the demands of a big landscaping contract, I feel we control our destiny in the nursery business."
Growing your nursery's identity
Problem: How do I set my business apart from the competition?
Solution: Marketing-savvy nursery owners look for a niche to promote their nursery. Connie and Steve Emerson, owners of Royal Landscape Nursery in Gotha, Florida, plan to open an animal farm on their nursery site this year that includes sheep, cows, chickens and goats. Connie says it's a good fit for their family-friendly atmosphere and adds to the pastoral ambiance you don't get in a giant box store.
Steve Tilleraas, owner of Tilleraas Landscape & Nursery in Big Sky, Montana, hosts an annual pumpkin patch at his garden center and says the event is now drawing a second generation of kids.
Nursery business prospectus checklist
First, decide what type of nursery you want to operate:
• Landscape nurseries, which grow plants for retail sales and for in-house landscape service
• Retail nurseries, which include small nurseries and garden centers that grow plants on limited acreage for strictly retail sales to homeowners and landscape contractors
• Wholesale nurseries, which include contract propagators, contract growers, growers and distributors (re-wholesalers) of nursery stock for wholesale to other nurserymen, landscape contractors and retail outlets
Consider these factors before meeting with the bank.
• Size of operation
• Location
• Type of operation (products to sell)
• Assets
• Cost of equipment and employees (number and type)
• Market (source and dependability)
• Estimated returns
Source: Purdue University Cooperative Extension Service and American Association of Nurserymen,1250 I Street NW Suite 500, Washington DC 20006