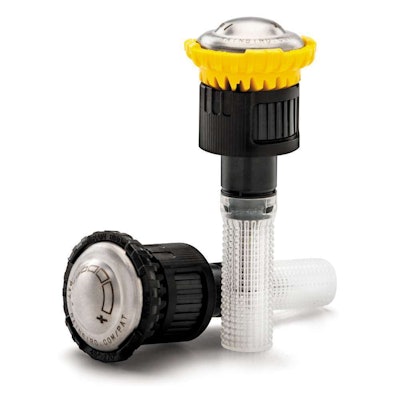 Rotary nozzles have become well known for their multiple rotating streams of water that provide efficient performance at low precipitation rates. Variable arc nozzles are praised for their design flexibility.
Rain Bird's R-VAN Adjustable rotary nozzles combine the benefits of rotary nozzles and variable arc nozzles into one.
A low-precipitation rate reduces run-off and erosion, making RVANs efficient for sloped landscapes and compacted or clay soils. A high level of distribution uniformity, thick wind-resistant streams and larger water droplets ensure efficient performance.
The R-VAN product line currently includes two color-coded models, the black R-VAN1318 with a radius of 13 to 18 feet, and the yellow R-VAN1724 with a radius of 17 to 24 feet. Each model's arc is adjustable from 45 to 270 degrees.
Rain Bird's new R-VAN Adjustable Rotary Nozzles combine the efficiency of rotary nozzles, the versatility of variable arc nozzles and the convenience of tool-free adjustment.