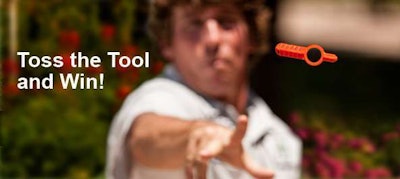 Nearly 1,000 users enter contest promoting R-VAN rotary nozzles
Landscape pros are making sport out of throwing away their sprinkler adjustment tools with Rain Bird's "Toss the Tool" online campaign. The campaign is urging users to get rid of nozzles that need adjustment tools and switch to Rain Bird's new R-VAN Adjustable Rotary Nozzles, the world's first fully hand-adjustable rotary nozzles.
So far, nearly 1,000 people (as of Feb. 6) have entered a daily drawing to win 20 R-VAN nozzles by indicating which tool they are discarding, says Randy Montgomery, product manager. The campaign focuses on adjustment tools for three rotary nozzles – the Hunter MP Rotator, Toro PrecisionTM Series, and K-Rain.
Entrants are also encouraged to submit photos showing them throwing away a tool for a chance to win a tablet computer. Submitted photos are displayed on the campaign website, tossthetool.rainbird.com.
R-VAN Adjustable Rotary Nozzles feature rotating stream technology that uniformly delivers water at a low precipitation rate, significantly reducing runoff and erosion. Nozzle spray pattern and distance are easily adjusted by hand with no tools required. Retrofitting standard spray nozzles with R-VAN Adjustable Rotary Nozzles can reduce flow by up to 60 percent and improve water efficiency by up to 30 percent.