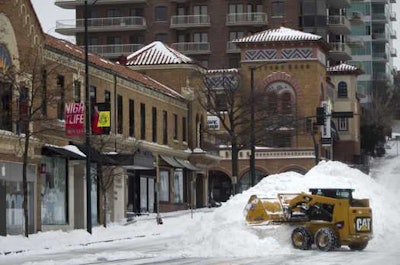 As an extensive snow storm left its mark on more than 20 states, with some parts of Kansas receiving 18 inches of snow, many residents are struggling with returning to their normal schedules. But flight delays, road closings, dangerous conditions and gusty winds up to 30 mph definitely aren't helping. And more snow is on the way for many states.
With the frigid conditions, there is a silver lining to the frosty flakes. Once the snow starts to melt, a few inches of water will soak into the ground. For an area plagued with drought, this is a welcomed weather event.
Vance Ehmke, a wheat farmer near Healy, Kansas, told Fox News the nearly foot of snow was "what we have been praying for." Climatologists say 12 inches of snow is equivalent to about 1 inch of rain, depending on the density of the snow.
Near Edwardsville in Illinois, farmer Mike Campbell called the precipitation a blessing after a bone-dry growing season in 2012.
The extra ground moisture combined with the opportunity to beef up their snow-removal services should mean only good things for landscapers.