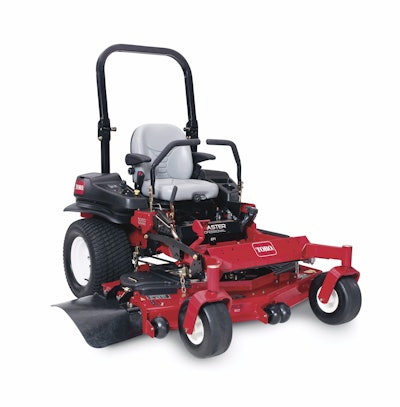 Toro has expanded its line of electronic fuel injected (EFI) mowers to the Z Master Professional 6000 Series and Z Master Commercial 3000 Series.
Each addition comes with a Kohler Command Pro closed-loop EFI engine, which adapts to load, weather, fuel and altitude changes for faster response and 25 percent better fuel economy.
Z Master Professional 6000 34-horsepower EFI Mowers
Two 34-horsepower EFI Z Master Professional 6000 Series mowers include a 60-inch or 72-inch deck that each feature increased horsepower.
The Kohler closed-loop EFI system uses less fuel and reduces the engine's CO2 emissions.
The models feature Turbo Force deck, a suspension seat and 3-D isolator mounts.
Z Master Commercial 3000 27-horsepower EFI Mowers
This mower includes a 27-horsepower Kohler Command Pro EFI engine and a 60-inch Turbo Force deck.
With the EFI system, the machine features no-choke starting, an engine sensor that monitors the engine while running and indicator lights, which provide early warning for potential problems.
The Turbo Force deck is a full welded fabricated 7-guage steel shell.