Sometimes you look at a business owner and wonder about his secrets for success. That isn't the case with David Adams, owner of Landscape Associates in Aldie, Virginia. Even the most cursory inspection of Adams's business will give you the answer: He is committed to executing every task at the absolute highest level achievable.
Striving for perfection
Adams developed an interest in landscaping as a teenager and worked a variety of jobs in the industry including landscape laborer, designer, sales and customer service – a background that has served him well since owning his business.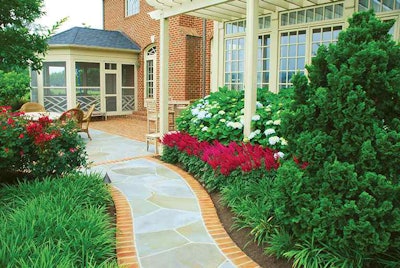 He considered both architecture and engineering, but they weren't quite the right fit. "I liked working outside, and I liked working with my hands," Adams says. "A friend suggested landscape design."
After graduating from Temple University, he started his business in 1989, working up from small residential jobs to the array of projects he has today. He likes diverse projects that allow him to exercise his creativity to the fullest, and although his average size project is in the $150,000 range, many of his projects are in the $1 million neighborhood.
"Whatever the size, we're going to provide the best possible project for their investment," he says. Together with Joe Condie, a certified landscape architect who has worked for Landscape Associates for the past 14 years, he provides a top-notch experience for clients, says Wendy and Mark Stavish, who engaged them to complete their newly constructed home in Creighton Farms.
"It was an amazing experience," Wendy says. "Working with Dave and Joe was the best part of building the house."
And the Stavish home was quite a challenge. The couple had hired Allen Cochran, a legendary stonemason who specializes in restoration and preservation, to do the stonework on their home, and Adams was faced with the daunting task of matching Cochran's work for the retaining walls, walkways and pillars.
"Since the Stavishes chose a mason who specializes in a historic look, I knew it would be difficult," he says. "Cochran can make a new house look like a 200-year-old house." He successfully completed the project – sourcing hand-collected, hand-chiseled native Virginia fieldstone. The end result was a seamless look the Stavishes loved.
Cornering the market
In addition to the Stavish home, Landscape Associates has performed a significant amount of work in the Creighton Farms community, handling most of the initial earthmoving and landscaping work during a two-year period.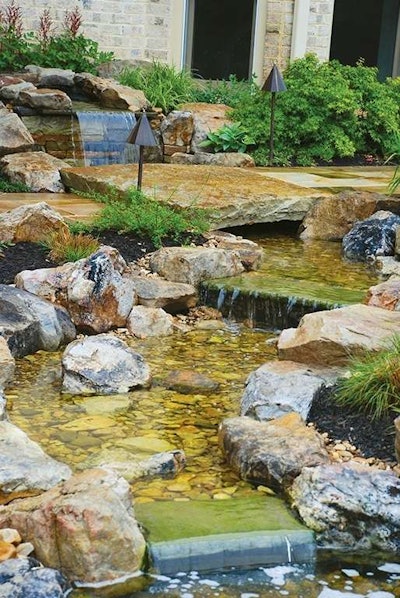 "We moved about 1,200 large trees and only lost five," Adams says. "I personally sourced and tagged every tree and plant we brought in." Adams says his work is unlike landscapers attached to nurseries, who often want to use what they have on hand. "Our designs are driven by what's appropriate for our client and their property – we do formal, naturalistic and everything in between," he says.
Adams has noticed once he completes work for a client, he's often retained to work for three or four of their neighbors. "Landscaping becomes contagious," he says. "It may not necessarily trigger additional landscaping but triggers overall home improvements."
The word-of-mouth advertising has enabled him to stay close to home. Although he used to work in a wide area, he now limits projects to about a 30-mile radius, primarily within Loudoun County. It's a conscious decision with multiple benefits.
Not only does Adams maintain a reputation as the man to go to in Loudoun County, he keeps his employees off the heavily traveled roads in the Washington, D.C. area. "I've seen lots of fatal accidents, and I don't want to subject my guys to that," he says. "Not only is it a safety issue, I just can't have six guys sitting in a truck for two hours to get to a jobsite."
The decision was an easy one to make, he says, and was partially predicated on his feeling that Loudoun County was going to expand. "I realized early the county was about to take off," he says. "I've put a lot of focus on this area."
The strategy has worked well, as now Landscape Associates is considered one of the premier contractors in the area. "We had them right from the beginning," says client Shannon Brown. "The Creighton Farms community gave us a list of several landscapers, and we definitely liked Landscape Associates the best."
Overcoming obstacles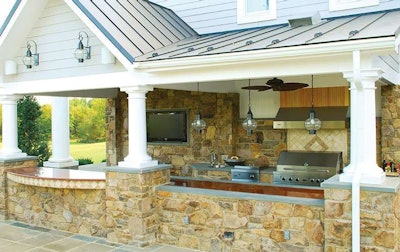 Even though Landscape Associates could serve as a blueprint for aspiring landscapers, Adams says there have been a few bumps in the road. He was able to weather economic downturns in both the early 1990s and in 2007 by making adjustments not only to the company's structure, but also the types of projects he took on. Initially performing heavily on new home projects, Adams shifted the focus to homes in established neighborhoods.
The most serious challenges for Adams weren't economic in nature at all. Following some serious health problems, Adams was diagnosed with Lyme disease in 2005: a condition that took him a number of years to overcome. In 2007, he suffered a spine injury that made running his business quite demanding. Still, Adams was serious about the commitment to his business and has worked hard to return to health.
His toughest critic
Adams says he's far more likely to have his employees rip out and redo work than a client is. "I have the experience to be able to tell when something is going to be a problem later," he says. "I'm demanding, but that's what my clients expect, and that's why we have the reputation we do."
There's a hidden benefit to Adams's approach. Because he has his employees redo work he's not completely satisfied with, Landscape Associates' warranty work is minor and limited.
As a result, he's able to offer a better warranty than the industry standard. He's often asked to go behind other landscaping companies to correct problems. "There's never a dull moment," he says. "It keeps us creative and sharp.
"Because we don't specialize in a specific type of project, our niche really is our level of quality," Adams says. "Our main focus is not to specialize, but to perform at the highest level."
Want to be the next Landscaper of the Year? Apply for our Landscaper of the Year program, and you could be featured in the magazine and win an all-expense-paid cruise to the Bahamas.