Why mower comfort is an important feature, even if you aren't in the seat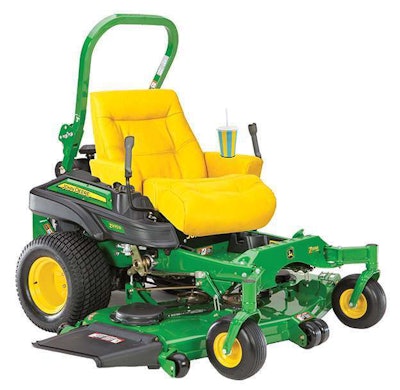 Hitting a bump, turning into a small hole or simply feeling the vibration of the humming engine could leave a mower operator sore and a little reluctant when hopping on the machine the next day.
"A mower that my crews don't like will last forever – because it just sits on the trailer," says Ben Bowen, landscape manager for Ross NW Watergardens in Portland, Oregon. "In contrast, a mower that crews like working with will get lots of use, and in my experience, be cared for better."
So finding a mower with the right comfort features is important, especially for commercial cutters.
"When an operator is in the seat eight to 10 hours a day, it's a must," says Mark Meyers, marketing manager, Dixie Chopper. "If a machine is mechanically designed to be used all day, every day, but the operator can't stand to be in the seat, it doesn't reflect favorably on the brand."
Being uncomfortable can lead to operator fatigue, which often negatively impacts performance, says Sean Dwyer, global product manager for zero-turn mowers, Husqvarna. So for some, comfort can be a top concern when purchasing equipment.
"We notice that with the typical owner/operator in particular, comfort is important and high on the scale," Dwyer says. "With large landscape contractor businesses, comfort is important but typically follows productivity, durability and serviceability."
A lack of comfort could also have an effect on the operator's concentration. "They could even be distracted while mowing, which could impact safety and quality," says Steve Wilhelmi, tactical marketing manager, John Deere Commercial
Mowing.
It's essential for the landscape business owner to remember what it's like in the field and to keep their crews comfortable when possible. As the saying goes, "A happy worker is a productive worker."
To know how his crew feel about the equipment, Bowen consults them before making a major purchase. "One of my crew leaders will actually go to the dealer and try a new mower out if I am considering adding it," he says. "My crews are the ones who will be spending hundreds of hours with the mowers. I want them to be happy with them."
Here are mower features to look for that can help give operators a more comfortable workday.
"For experienced operators, comfort is just as important as the horsepower and deck size."
What absorbs the pain?
There are a variety of components that can help absorb some of the discomfort, including cushioned/suspended seats, thick floor mats, suspension on the mower itself and "anything that isolates the operator from the vibrations of the machine and inputs of the terrain they are mowing," Meyers says.
To increase comfort, Dixie Chopper added ATV balloon-style rear tires, springer front forks and a suspended seat to several mower models. "All of these options minimize inputs from the turf and keep the operator comfortable," he says.
Husqvarna uses a five-point system (hands, feet and body) to isolate the operator platform from vibration, using rubber mounts, suspensions seats, angled steering levers and a spring-assisted deck lift system. "Mower-operator isolation is paramount," Dwyer says.
With Exmark's Lazer Z X-Series ZTR mower, its new seat design will include an Iso-mount system providing 3-D isolation of the seat from the rider frame. This construction allows for 1/2-inch vertical and 3/4-inch lateral travel. The scissor link ball-bearing suspension system, elastomeric vibration control (EVC) stretch fabric and custom seat cushion foam also deliver comfort.
"Other items to consider are the ergonomics of the handgrips, and features such as a power deck lift with handgrip-located control buttons," Wilhelmi says.
A comfy experience doesn't have to be limited to riding mowers, though. With an adjustable spring platform and deluxe thigh pad, the John Deere QuikTrak stand-on mowers have a spring platform that also help reduce shock and vibration.