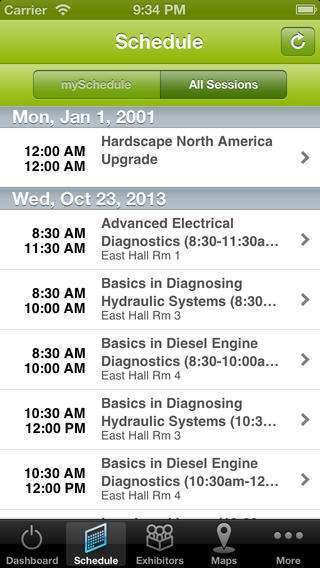 Navigating and scheduling will be a little easier for attendees and exhibitors this year at the GIE+EXPO 2013 with the help of an app.
The new app allows users to connect with exhibitors by an automatic component, as well as features a searchable database of exhibitors, sessions and speakers.
Users can also create an appointment agenda and receive updates while at the show, which is set for Oct. 23-25 at the Kentucky Exposition Center in Louisville, Kentucky.
The app is available for download for the iPad and iPhone in the App Store
Features:
Show Guide: A searchable, up-to-date directory of all exhibiting companies, available sessions and speakers.
Automated Matching: A matching functionality connects attendees to exhibitor based upon registration demographic information. Attendees can also search for exhibitors by company name or product category and expand their list of matches.
Appointment Scheduler: Attendees can create and manage appointments with exhibitors both on and off the show floor designing a course of action for the event.
Agenda Builder: An itinerary of session and exhibitor appointments scheduled for the attendee.
Electronic Literature: Attendees can download and view exhibitors electronic literature.
Messaging Service: Attendees can receive important and informative messages sent out by the organizer.
Floor Map: A viewable map to navigate the show floor.