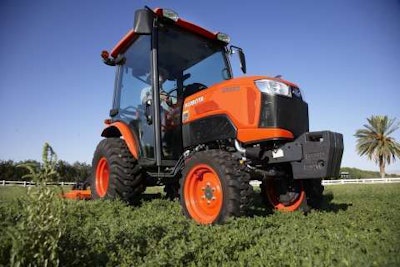 Kubota Tractor Corporation has introduced a line of factory-integrated-cab tractors – the B50 Series.
The series includes the B2650 ROPS and B3350 HSDC Cab models featuring 19.5 and 27 PTO horsepower, respectively.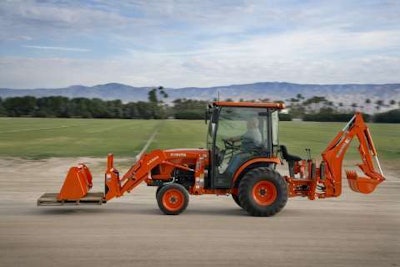 With a Tier 4 compliant diesel engine, the B50 series has travel speeds of approximately 14 mph. The B3350 includes a liquid-cooled E-TVCS (Emissions-Three Vortex Combustion System) engine and is equipped with a Diesel Particulate Filter (DPF) to further reduce emissions. The B3350 is compliant with Tier IV emissions standards.
Attachments for the B50 series include a backhoe, a front loader, snow blades, snowblowers and pallet forks.
The series features a four-pillar cab design with rounded glass, and includes a deluxe suspension seat with armrests to help absorb shock.
Operators will find levers arranged on the left and right consoles, and the switches are concentrated around the instrument panel.
The series also features a multi-stage notch-type cruise control, which offers lighter lever operations to keep working speeds constant.
The brake pedals have been moved to the left side of the steering column to provide more space for the right side and the HST pedal.