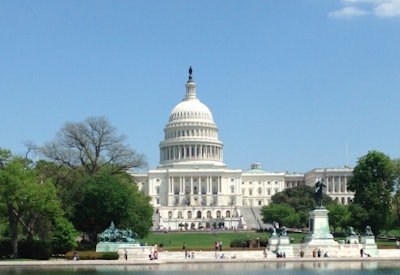 With this program's wage rule in question, landscapers could be the hardest hit if Congress and the courts don't stop it.
Good seasonal employees can be difficult to come by – and a new rule might make it even harder for landscape business owners to find reliable crews.
Landscape professionals and organizations from 34 states met in Washington in July for the Professional Landcare Network's (PLANET) Legislative Day on the Hill. And one of the main topics up for discussion was the recently enacted H-2B wage rule.
To fully understand the impact this rule could have on the industry, it's important to understand how the H-2B program – which allows U.S. employers to temporarily hire nonimmigrants for seasonal labor – currently works and what is changing.
Employers must provide the U.S. Department of Labor (DOL) their open position's description, and prior to the rule change, the DOL would determine the corresponding job level for the position – ranging from Level 1 to 4. Each level has a wage requirement, which is created using Occupational Employment Statistics (OES) survey data. The employer would be required to pay the foreign seasonal worker at least the wage range minimum for the position.
However, the DOL's new rule throws out the four OES tiers and instead requires employers to pay no less than the mean (average) of all four wage ranges combined. Under this rule, H-2B worker pay would increase; in some cases, this could be 36.58 percent or higher compared to the previously established minimum.
"The DOL assumes you can't find people for the jobs because you don't pay enough," says Ralph Egües, National Hispanic Landscape Alliance (NHLA) executive director. "In fact, the jobs are hard to fill because they're seasonal and because too few Americans are willing to perform hard manual labor outdoors in the summer heat."
Under the new rule, these inexperienced workers would come in from overseas and be paid more than half of those currently working in that job, who have more experience and are more productive.
While the DOL is looking for ways to increase workers' incomes, this wage-control rule won't achieve that goal if employers can't also increase the prices they charge their customers, Egües points out.
"Instead, what we are seeing is reputable employers choosing to shrink their operations, keeping only higher-margin work," he says. "So instead of facilitating a program that helps companies legally source workers to perform jobs Americans don't want, thus enabling them to grow and add the jobs Americans do want, the new rule is doing the opposite. It makes it unaffordable and more difficult to legally import needed seasonal labor."
While H-2B affects a range of industries, landscapers are the top users of the program. There are 66,000 H-2B visas issued each year in the United States, and half of those are used by the landscape industry, Egües says.
"For landscape maintenance firms to meet their customers' demands, they've got to be able to expand their work force during months when there's more work to be done," he says.
These proposed changes will also acutely affect many of the Hispanics working in the landscape industry, Egües says, which is why the NHLA has been so involved in seeking Congressional assistance to block the new rules and others the DOL has attempted to enact during the past few years.
"More than $19 million a year goes into Hispanic households from the landscape industry, and more than 500,000 Hispanic families depend on the landscaping industry for their livelihoods," he explains. "The H-2B program has been an important contributor to the advancement of U.S. Hispanics in the landscape industry."
The new rule has gone into effect, but most employers have filed appeals. Congress has blocked nearly identical rules in the past, and there is hope it will do so again.
"If Congress isn't able or willing to stop the rule, we will have to once again seek relief from the courts," Egües notes. "H-2B employers simply are not able to pay higher wages because they can't pass these costs on to customers."
While Egües says companies can make it without using the H-2B program, he believes the majority would shrink, cutting back on staff and equipment purchases in the process.
But current program users might not be the only ones affected by this new rule.
"As landscape businesses grow, access to sufficient seasonal labor is critical," he says. "Without the H-2B program, hiring and retaining sufficient workers to keep those positions filled with workers having verifiable employment eligibility is difficult almost anywhere in the United States."