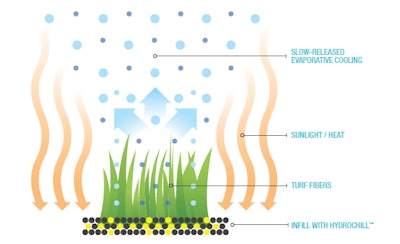 To help combat the heat on synthetic turf fields, Shaw Sports Turf has released HydroChill.
After being in development for approximately three years, HydroChill has shown cooling effects up to 50 degrees.
HydroChill works on the same basic principle of humans who sweat.
When a human sweats, evaporation cooling takes place when evaporation of moisture from the skin's surface has a cooling effect.
As the turf's surface is heated by solar radiation, moisture stored in the turf is released, leaving a cooler surface.
The field is watered to activate HydroChill, and energy from the sunlight drives out water – ultimately removing heat from the surface.
The cooling effect can last between two and three days.