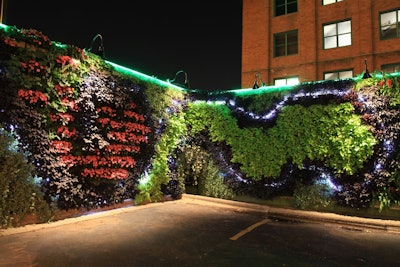 Imagine running into an Eden-like setting in the middle of a city.
What may seem out of the ordinary and unusual has become a reality for one city in Michigan.
Dave MacKenzie, a horticulturalist, has designed, created and installed "Back to Eden," which is located in downtown Grand Rapids, Michigan.
The 1,400 square-foot living abstract "painting" is made up of 60 varieties of 2,500 perennial, annual and edible plants.
Some of the highlighted plants include hot pink New Guinea impatiens, red double-begonias, pineapple coleus, as well as strawberries and green peppers.
The 11- by 130-foot canvas is MacKenzie's "gray to green" vision of transforming buildings, homes, bridges, parking lots and roadways into landscaped settings.
The installation has been placed in the Top 25 by public vote in ArtPrize, the competition with the world's largest art prize. This project was voted out of 1,500 entries.
The project took four weeks to create, complete and install with the first growing starting in April and May of this year.
To last through the fall, some flowers had to be removed and there is a keen eye out for frost. A specially designed cloth was kept close at hand in case of cold weather and team members take turns maintaining the artwork.