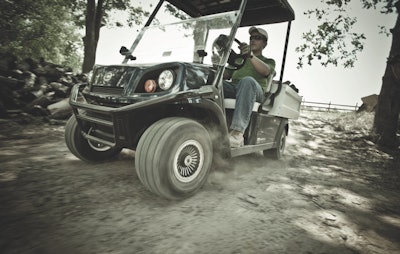 Cushman introduced the fully electric Hauler Pro at GIE+EXPO.
The Hauler PRO features a 72-volt AC electric drivetrain, upgraded from more traditional 48-volt systems, that offers up to 50 miles of range between charges.
The AC Drive technology is up to 25 percent more energy-efficient than DC technology and also provides features such as regenerative braking that recharges the batteries whenever the vehicle's brakes are applied and also speed control to maintain constant speeds up and down steep slopes.
An optional limited-slip differential provides for greatly improved traction on wet or loose turf, while helping to protect turf from damage due to wheel slippage.
The Hauler Pro features a maximum load capacity of 1,000 pounds and come standard with a 9.5-cubic- foot cargo bed. A 14.9-cubic-foot aluminum cargo bed will be available as a factory-installed option for facilities that require more cargo space.