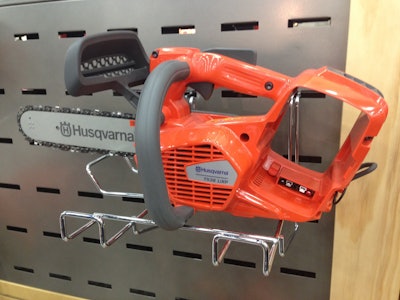 For landscapers who are seeking a green solution, Husqvarna is set to release a line of battery-operated outdoor power equipment.
Each outdoor product is equipped with a Li-Ion 36 V battery that features SavE mode technology, which can be activated with a button to lower output performance and increase battery life in less demanding situations.
The line is set to go into production by the spring of 2014.
The products include:
536LiHD60X Hedge Trimmer: Delivering 100 minutes of run time, it features a pivoting rear handle and a professional-grade laser-cut 60 cm blade.
Trimmers: Three new trimmers – the curved 136LiL; the straight loop 536LiL; and the straight bullhorn 536LiR. Each provides stepless electronic speed control, with the latter two models featuring a brushless motor and rotation direction change for professional use.
Chainsaws: Three new chainsaws – the 436Li, 536LiXP and T536LiXP (for arborists).
The company also released its latest accessories at GIE+EXPO in Louisville, Kentucky.
Work Gloves: Five new or updated gloves – XP Professional, Technical, Functional Saw Protection, Functional Winter and HD Leather Work Gloves. All feature a breathable spandex back or top.
Dump Carts
The following new sizes are available this fall:
– 10 cubic feet Poly Swivel Dump Cart, with a 600-pound hauling capacity; it swivels to dump anywhere within a 110-degree radius
– 9 cubic feet Steel Dump Cart, with a 350-pound load capacity and easy, single-lever dump
– 12 cubic feet Steel Swivel Dump Cart, with a 1,000-pound load capacity and swivel dump with foot pedal release
Titanium Force Trimmer Line: The latest version of the Titanium Force Trimmer Line includes a free line cutter, and a line size color indicator bar. This product fits all standard trimmer heads.