Exmark introduced a variety of products for 2014 at GIE+EXPO in Louisville, Kentucky last week.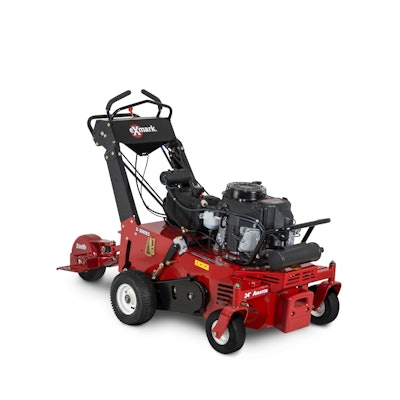 S-Series and X-Series Walk-Behind Aerators
After more than two years in development, Exmark will offer its S-Series and X-Series walk-behind aerator models in 2014.
Exmark equipped the X-Series aerator with a 24-inch aeration width and steerable, dual-hydro drive design.
With Kawasaki V-twin power, the X-Series is capable of aeration speeds of up to 6.5 mph to deliver productivity of up to 1.6 acres per hour.
The S-Series features a 21-inch aeration width and a transaxle drive system with variable drive speed and powered reverse.
Powered by a rugged single-cylinder Kawasaki KAI engine, the S-Series is capable of speeds of up to 4 mph, allowing aeration of nearly an acre of turf per hour.
________________________________________________________________________________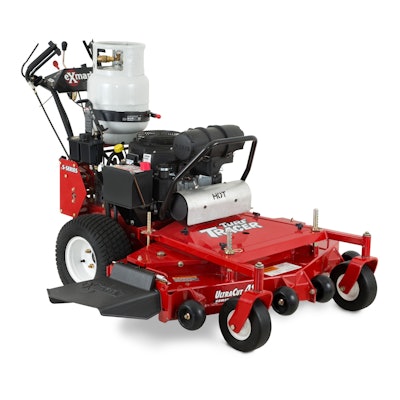 EFI-Propane Wide-Area Walk-Behind Mowers
Exmark has expanded its line to include two new EFI-propane wide-area walk-behind models.
The models feature EFI-propane Kohler V-twin powerplants on the Turf Tracer S-Series and Turf Tracer X-Series walk-behind models.
The Turf Tracer models utilize EFI propane Kohler powerplants with an automotive-style closed-loop Electronic Fuel Injection system.
Both Turf Tracer models include Exmark's Enhanced Control System.
Exmark's Turf Tracer X-Series model features the EFI-propane Kohler PCV680 air-cooled V-twin powerplant. The Kohler powerplant has a canister filtration and turn-key, choke-free electric starting.
The Turf Tracer X-Series has a full-floating Exmark UltraCut Series 4 cutting deck, which is available in 52- and 60-inch cutting widths.
The Turf Tracer S-Series EFI-propane features a Kohler PCV650 EFI propane engine and a 48-inch UltraCut Series 3 cutting deck.
________________________________________________________________________________
UltraCut rear discharge cutting deck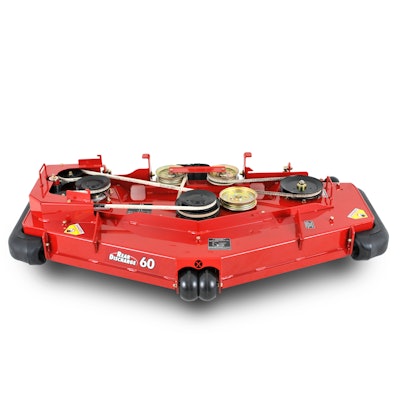 Exmark has introduced the UltraCut rear discharge cutting deck to its Lazer Z S-Series zero-turn mower, which is available in 60- and 72-inch cutting widths.
The rear discharge deck includes increased clipping discharge control, reduced noise and the ability to trim on both sides of the cutting deck.
The deck is designed with counter-rotating blades.
The UltraCut rear discharge deck reduces clipping over-processing with a counter-rotating blade design and flow-control baffles.
Exmark will offer the rear discharge as an option on all 60- and 72-inch 2014 Lazer Z S-Series zero-turn mower models.
________________________________________________________________________________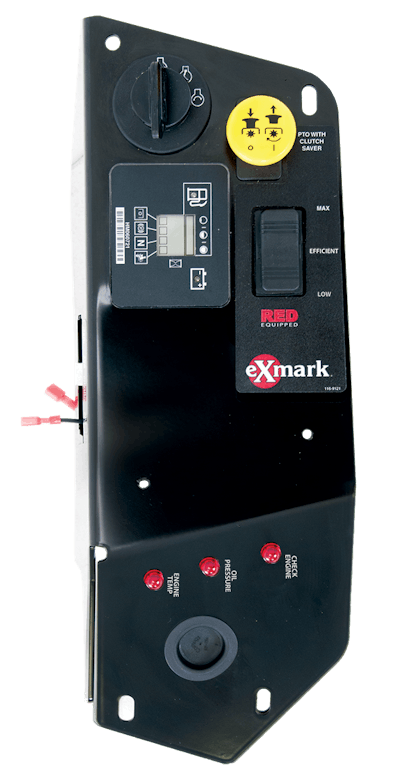 UltraCut Series 6 cutting decks
Exmark expanded its available of RED technology to Lazer Z X-Series models with 52-inch UltraCut Series 6 cutting decks.
An electronic governor (E-gov) is a key to the system. The E-governor enables RED-equipped models to operate in a lower RPM range without sacrifice to blade tip speed or cut quality.
A RED-equipped Lazer Z X-Series mower offers three user-selectable performance modes.
A clutch saver feature extends clutch life by slowing engine RPM to a safe level during clutch engagement and disengagement. RED also monitors vital engine parameters, including engine temperature and oil pressure, to prevent engine damage in-use. The system can place the machine in a 'safe transport' mode when critical thresholds have been exceeded to allow safe return for service.
________________________________________________________________________________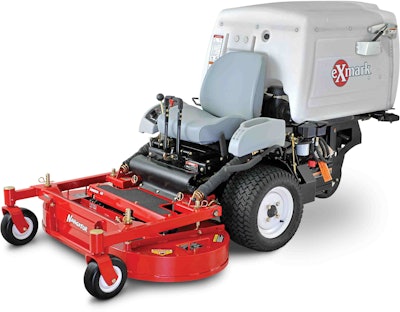 Powered Dump System
Exmark will offer a new powered dump system for its 2014 Navigator dedicated bagging riding mower. The new system increases productivity by allowing the operator to dump clippings quickly, from the driver's seat.
The Navigator has a 9.5-bushel collection hopper, and Exmark developed a fill-reduction system, which increases the versatility of the machine by allowing the operator to switch from dedicated bagging to fill-reduction mode (30 percent bagging, 70 percent mulching), or 100 percent mulching.
________________________________________________________________________________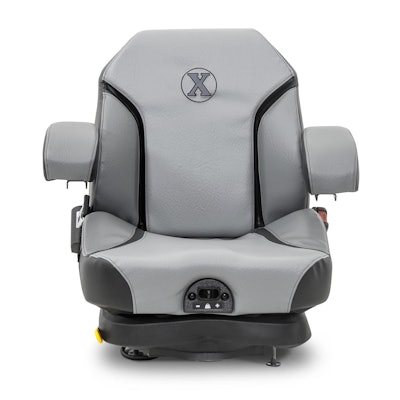 Air Ride Seat
A new Air Ride seat option will be available for the company's Lazer Z zero-turn rider models for 2014.
The seat design increases operator comfort by allowing adjustment for operators' weight.
By using a pneumatic spring to suspend the rider, the seat is was designed to complement the company's mechanically-based suspension seats.
Exmark spent more than two years developing the seat.
The Air Ride seat is available as a factory-installed upgrade for the 2014 Lazer Z E-Series and Lazer Z S-Series models, or as an option on the Lazer Z X-Series model.