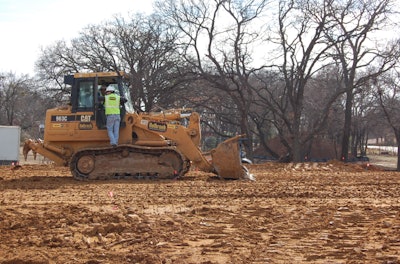 Maintaining a solid safety record goes beyond requiring employees to wear long pants and safety glasses on the jobsite: It should become a way of life.
While accidents and other safety violations can be costly, there are other incentives for promoting safe practices that can actually bring in money.
A safe reputation can mean better insurance rates and help a landscaper win bigger, coveted bids. "Large companies will go with the safer contractor, even if the bid is higher," says John Holbrook, owner of The Holbrook Company in Grand Prairie, Texas.
And even more important than the financial motivation is the crew member's well-being. "I view safety as a business obligation," says Edward Snyder, owner of Greenleaf Services in Linville, North Carolina. "I want to make sure employees go home to their families in one piece at the end of the day. That's certainly not something I take lightly."
The benefits should be obvious, but the process to reach this safety goal might not be. Here are five ways landscapers can make safety a top priority for their company and employees.
1. Talk about it
Making safety a priority rests with the company owner, and one way to get this message across is with regular safety meetings.
Snyder, whose company has won the National Association of Landscape Professionals (NALP) "Best of the Best" safety achievement award, holds meetings every morning to go over relevant topics, which sometimes include safety concerns. They also have designated safety talks throughout the year.
Holbrook stresses safety to his 105 employees with weekly meetings where he uses training materials in English and Spanish. He also encourages his team members to give feedback and suggestions about the company's safety practices.
"Safety is a huge part of our success," says Holbrook, Equipment World magazine's Contractor of the Year finalist. "Even in tough times, we haven't had trouble with safety. We've proven safety doesn't cost – it pays."
No only can safety meetings be used to educate employees on how to safely handle situations, task and equipment, these sessions can also provide a time to discuss past issues.
"When something bad does happen, step back, look at it and see what you can do to prevent it from happening again," Snyder says. "When something goes wrong, how you handle the situation speaks louder about your character and company than how you handle things when they are going great."
During wet or adverse weather, landscapers can also bring in crews for more intense meetings and review specific incidents or topics.
"You want the meetings to be something simple, not a beating," Holbrook says. "For example, one series might be about leaving the work yard – the variety of topics keep the employees interested."
And the proof is in the record. "It comes down to a history of no accidents," Holbrook says. "That's how you measure safety effectiveness."
2. Motivate crews
While going home with all of their extremities is a reward in itself, employees respond even better to tangible incentives.
To encourage crews to wear all of their personal protective equipment (PPE), landscapers can personalize the items to create a sense of pride – maybe by putting the worker's name on his safety vest.
A more straightforward approach is giving employees cash rewards for not having accidents. Holbrook gives his team members up to four $500 bonuses a year if they do not accumulate safety penalties. Conversely, if a worker does incur a penalty, their peers decide on the penalty severity and fine amount.
"The No. 1 safety motivator is money," Holbrook says.
3. Know the ins and outs
Part of creating a safety-minded business is for the owner to understand what that actually requires. Landscapers can tell their crews what to do or not to do on the jobsite, but if the landscaper doesn't know what all goes into a task, they won't provide the best instructions and safety tips.
"Safety has been a big thing for me starting from Day 1," Snyder says. "Safety, to me, is about taking care of your people. That's why it's important to really understand what goes on out there in the field. You can understand why things happen and where employees are coming from."
A management skill learned from his father and uncles, Snyder makes it his job to understand everything that goes on in the company. "I want to work in my employees' shoes," Snyder says, who has about 12 employees. So, he spends 60 to 70 percent of his time in the field. "When I ask someone to do something, I know where they're coming from – safety falls into that."
4. Run a tight ship
Another way to encourage workers to take pride in their work, which can result in safer practices, is for the landscaper to keep the business organized.
One way to do this is by making sure the equipment is maintained properly. "We keep everything clean and organized," Snyder says. "It helps build trust with customers, and the same goes for employees."
Keeping a well-ordered business also means owners should stay up to date on state and national safety laws. The Occupational Safety and Health Administration (OSHA) provides its regulations at osha.gov and also lists the organization's inspection fact sheet to show what they expect.
"If you're doing what you're supposed to be doing, OSHA shouldn't be that big of an issue – that's my personal opinion," says Snyder, whose company hasn't had a serious injury or accident since launching in 2000.
Safety rules aren't there to make a company's job harder: They are meant to protect employees.
5. Capitalize on resources
Education is key when working to prevent accidents or injuries. So, owners should take advantage of other professionals and their knowledge to better train employees.
"We spend as much time as possible with the manufacturer's representative," he says. "When we purchase new equipment, we get the distributor or sales rep to go over the basics with us, including the safety manual. We also discuss how to operate the machine with the dealer and go over maintenance information."
Snyder also brings employees to industry events, including GIE+EXPO in Louisville, Kentucky. "There are a lot of engineers, factory technicians and other knowledgeable people there who can answer our equipment questions," Snyder says.
Want more safety articles? Click here to view TLC's safety watch stories.