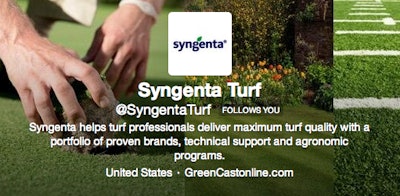 Syngenta Turf and Landscape has introduced two resources to help landscapers.
The company has launched Twitter and YouTube accounts to serve as interactive outlets with up-to-date information for the golf, lawn care and sports turf industries.
Turf professionals can follow Syngenta Turf on Twitter using @SyngentaTurf and subscribe on YouTube at YouTube.com/SyngentaTurf.
Followers can join the conversation by searching for hashtags including: #golf, #lawncare, #turf and #sportsturf. Additionally, the new YouTube channel will host videos, such as instructional guides, testimonials and information.
Both outlets link to GreenCast Online, providing industry professionals with access to additional tools and resources.