No matter your company's size, services or location, you need a website. And if you don't have one, make that a top priority right now.
Websites not only help potential clients find and contact you, but they also give your business credibility. And sites don't have to be hard to create. I proved that by launching a new website last night using Wix.com in about an hour.
A free site, Wix.com is easy to use and doesn't require you to know any code. Here's how you can have a functional site for your landscape business in an hour or two.
1. Pick a template. Wix has a variety of designs to choose from, including several geared toward the green industry. You can click on and view the templates before choosing one, so make sure to get one that offers everything you're looking for (a space for project photos, contact information, bios, etc.). Find the landscape designs by going to the Business & Services section and then click on Home and Garden. There are several good options, but this landscaping template can be found on page 4.
2. Personalize it. Once you have picked your template, you can start editing the site. Add your phone number, address, company name, list of services and a description of your business. Then, take down the stock photos from the site and add your own project shots. If you're short on time, just make sure to take all of the stock photos down and add at least one of your own at the top.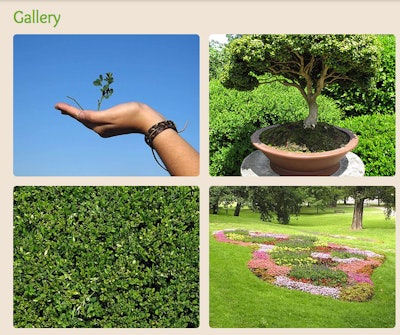 3. Take it to the next level. You don't have to do this right away, but you should make your site the complete package. Add photos of you and your team members. Constantly update your Gallery page to include all of your projects — photos really do sell clients. Also, link to your social media sites (you just have to connect your pages because the icons are already there) to encourage people to follow you there.
There's also a way to edit the mobile version of the site, so take a look at that and make sure it's usable on a phone, too.
Remember: It's better to have a bad website than no website, so just get something up. Once it's created, you can improve it a little at a time.
Note: If you want to upgrade any of the features, create a more personalized domain name or remove the Wix ads, you can pay a monthly fee. It really just depends on how far you want to take the site.
Additional Resources:
* 3 Mistakes to Avoid When Building a Site
* Already Have a Site? Here's How to Make a Mobile Version