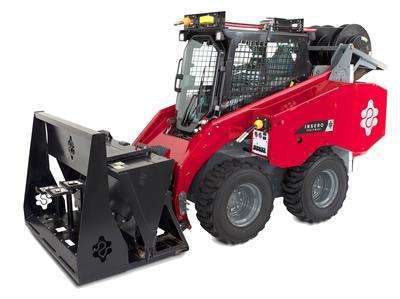 Showcased at ConExpo last week, the Insero AMP Skid Steer is described as a mobile power force.
Featuring a Cat skid steer base, the AMP (auxiliary mobile power) is a self-contained power source designed by Insero Equipment.
With an integral 8.5kW power source, the machine features a tool rack to help on jobsites, as well as runs a variety of tools up to 30.5 feet away.
Features include:
The Insero AMP can run any tool requiring 5-10 GPM at 2,000 PSI allowing for custom application.
The AMP utilizes Sullair's rotary screw compressor design to provide on demand air supply.
Two 50 HZ (250 V) GFCI receptacles are included on the AMP.
The AMP's One Trip design custom tool rack allows for easy tool portability. The tool rack is designed to transport multiple tools quickly and easily to and from your jobsite.
The AMP retains all original skid steer functionality.
Hose and Reels included on the AMP are:

Two 30.5 m (100 ft) retractable hydraulic hose reels with dual 1.3 cm (1/2 in) hoses
One 30.5 m (100 ft) retractable air hose reel with 2.5 cm (1 in) hose
One 30.5 m (100 ft) retractable electrical reel with 8/3 SOOW cable

The AMP's hydraulic system is designed to enable simultaneous operation of auxiliary functions