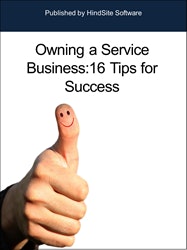 HindSite Software released an eBook all about business ownership.
David Crary, HindSite's president and founder, wrote the free eBook, Owning a Field Service Business: 16 Tips for Success, based on his 30 years of experience of business ownership.
Crary breaks down successful business tactics into 16 tips. One topic he addresses is how to be honest and set boundaries with employees and customers.
Additionally, the book explains ways to plan for a business' financial success, considering landscapers deal with seasonal highs and lows.
Another tip touches on how many small business owners and service business owners typically unintentionally live beyond their means. Crary explains how to ensure that you will not spend beyond what you can afford.
By using personal examples, Crary explains that displaying a brand as often as possible will create professionalism and familiarity, thus turning prospects into customers.