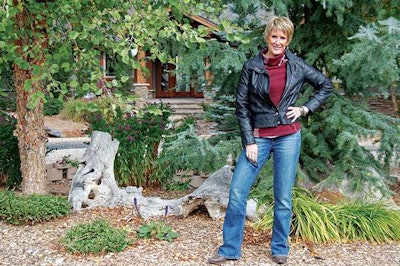 Terry Sims has always been a woman of action. Possessing the ability to fuse her creative thought processes with practical applications, she's able to come up with innovative, yet sensible, solutions for any problem.
So when she realized she wasn't putting her Fine Arts degree from Cal State Long Beach to good use, she knew she needed to find a job she would be passionate about.
View more project photos from The Garden Artist
She discovered a book, "I Could Do Anything If I Only Knew What It Was," and in eight hours, she realized the career for her was in landscape architecture. "It was perfect," Sims says. "Being a landscape architect was exactly what I wanted to do."
When Terry divorced at the age of 45, she found the opportunity to enroll in the Boise State University horticulture program, which she followed with the University of Idaho's landscape architecture program. As the single mom of then-10-year-old daughter Kodi, she studied landscape architecture via distance education, becoming the first person to attend the school's program remotely – all while continuing to work full time.
Her hard work paid off, and she launched The Garden Artist, a high-end design/build firm specializing in outdoor living areas, in 2004 in Boise, Idaho.
Sub success
The Garden Artist has an unusual structure, with only three employees. On jobs, Sims is the sole designer and general contractor, and she hires trusted firms to execute the installation. She has formed a close working relationship with Curt Gallegos and Dave Wells of Cougar Mountain Landscaping and says the partnership offers them the best of both worlds.
"They build 85 percent of my projects," she says. "The beauty of not having them on my staff is that they remain independent contractors with benefits of licensing and insurance – less risk for our firm. Additionally, we have a wonderful relationship."
Having Cougar Mountain Landscaping handle the majority of her installations also allows Sims to reap a huge financial benefit. With a small staff, there's no need for her to have a lot of equipment or materials; most of what she needs to have on hand can be found on her 1 1/2-acre property in Boise, which she had custom-built as a combination residence and studio.
Her partner, Patrick McIntire, a general contractor who specializes in fine furniture and cabinetry, occasionally is brought in to handle an improvement. "He's always pushing the limits," she says. "I know it will be done perfectly if I bring him in as a sub on complex outdoor kitchens, for example."
Reaching her audience
Sims refers to herself as a "marketing genius," noting up to 70 percent of her business initially came from her website. She has hired someone specifically to do SEO, or search engine optimization, and to handle The Garden Artist's social media initiatives.
Sims keeps in constant contact with prospective clients and always goes above and beyond to showcase her projects. One of her successful strategies is to offer a landscape plan for various arts venues.
"I'll donate a plan to be auctioned off for charity," she says. "Everyone there sees it, and it allows me to advertise to the type of people who go to these auctions – people who support the arts or Boise State University. It allows me to advertise while giving back to the community."
Sims sees giving back to her local community as crucial. She's lived in the Treasure Valley area for 23 years and wants to support the area that supports her. She's often taught at the Idaho Botanical Gardens and served as a guest speaker at the College of Western Idaho. Additionally, Sims is a published author featured in local and national publications.
Managing the details
A creative approach Sims has taken with the practical side of the business is spending one entire day per week with her accountant. Although Sims says she would get out and pull weeds if she needed to, she knows she needs to concentrate on the big picture and on the numbers.
One area Sims felt she needed specific help in was time management, and she knew her accountant could help her. Her accountant has worked out a unique system that enables Sims to designate how much time she spends on certain activities and which should be handled by someone else.
Charting the time has enabled Sims to better plan not only her projects, but also the future structure of her company. For example, she now knows she will need to hire an administrative assistant this year and bring on a personal gardener to manage upkeep on her projects next year.
Reaping the rewards
Efforts to get her name out as a leader in upscale landscape design have been wildly successful. Boise has a thriving medical community with a large population of trauma specialists and other medical professionals, and The Garden Artist was able to serve this market and actually experience growth during the recession
"The upper-end projects allow me to be more creative," she says. "Those clients expect a huge wow factor."
However, Sims notes she'll take on almost any project and says she loves a challenge. "It pushes my boundary when someone has a smaller budget. You still can't provide something typical."
The demand for beautiful, functional outdoor living spaces is high in Boise, where there is an abundance of natural beauty. "My clients understand the benefit of being outdoors," Sims says. "People want serenity when they come home. I design landscapes that will be as beautiful in the winter as they will be in the summer, spring and fall."
Although she has numerous projects in Boise, Sims says she would like to continue to expand The Garden Artist in the Northwest. She consistently works in Boise until Christmas and then loads up into her mobile studio – a huge RV she's named Bernadette – and heads for California, where she'll work until her Feb. 15 startup in Boise.
No matter where Terry's clients are located, she brings the same level of perfection to each client. Her specialty is features that evoke "walking on water," and she often incorporates fire into her water features, and water features into her fire pits.
"I want it to look like the water features were there, and the house was built around them – not the other way around."
Read Sims' keys to success, and to see more project photos from Sims, visit the gallery.
Apply to be this year's Landscaper of the Year.
Editor's Note: Amy Materson is the Managing Editor for sister site Equipment World.