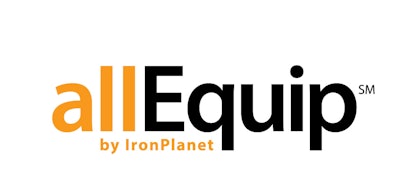 IronPlanet has launched a "buy now" online marketplace of used construction equipment for sale.
The site, allEquip.com, allows individuals to not only buy construction equipment, but allows them to sell equipment as well.
The site manages the complete transaction between the buyer and the seller, from equipment listing on the site through final payment.
Every item for sale has a guaranteed inspection report, a "buy now, haggle-free price," and can be purchased directly from the site.
The inspection reports include a description, as well as photos of the equipment's condition and features.
The site offers companies with inventory of used equipment, including rental companies, OEMs, contractors and financial services companies, a channel to deliver quick sales for their fleet disposal requirements.