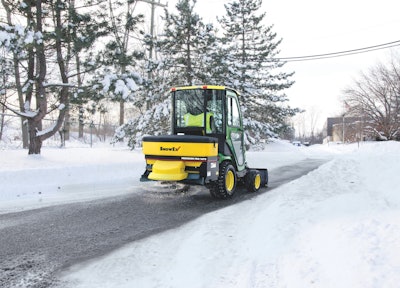 Adding to its snow removal line, SnowEx introduced the SP-1675 Precision Pro spreader.
The spreader can process bulk or bagged ice melting material from four to 12 feet wide and is designed to accommodate a variety of sidewalk widths.
Additionally, the Precision Pro has a six-cubic-foot capacity, and a volumetric vane feed system provides consistent material flow to the spinner, while eliminating the need for a gate, since no material can leak out when the spreader is turned off.
The spinner is located in the center of the unit to ensure even material distribution, and the feed rate and spread width are independently adjustable for maximum material control.
The spreader comes with a lightweight, corrosion-resistant polyethylene hopper. The electric drive system can help reduce maintenance needs, since there are no engines, chains or sprockets to service.
The SP-1675 is offered with three mounting systems for attaching to three-point hitches, utility vehicles or two-inch receiver hitches.