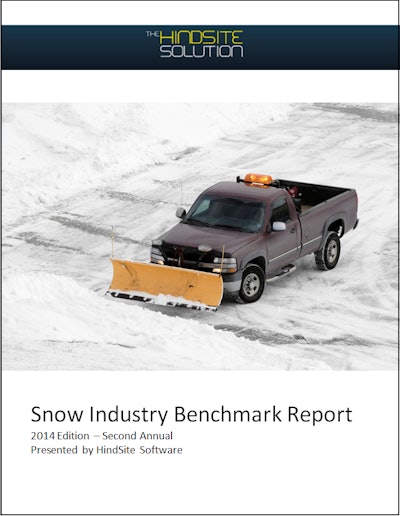 Despite numerous issues like rising costs and fuel shortages, the 2013-14 snow season kicked off a solid start to the year for most landscapers, according to the 2014 Snow Industry Benchmark Report from HindSite Software.
According to the report, most snow professionals reported increased revenue and profits despite rising costs, salt shortages and the continuous difficulty of getting new clients.
However, those issues affected many contractors with approximately 44 percent of survey respondents indicating that their snow revenue increased more than 20 percent, compared to 38 percent in the 2013-13 snow season.
Among the key findings:
26 percent of respondents chose sales and marketing as the area of their business they wish to improve, while 20 percent hope to improve operational efficiency.
As a result of the revenue and profitability increases the snow industry experienced, 71 percent of businesses plan to increase spending on equipment and software to improve efficiency and productivity.
55 percent of respondents indicated they plan to raise their prices for the 2014-15 snow season because of the increased cost for fuel, salt, labor, insurance and maintenance.
Nearly 70 percent of snow professionals earn less than 50 percent of their total business revenue from their snow operations.
90 percent of snow businesses with more than 20 employees have an office manager, with QuickBooks being the primary accounting software solution for the industry.