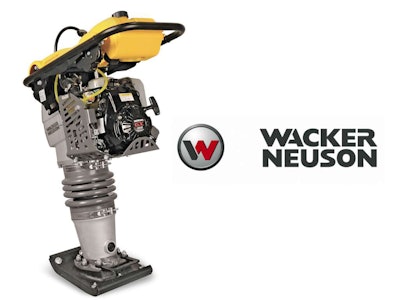 Wacker Neuson has launched two new models in its vibratory rammer line — the BS 50-4As and BS 60-4As.
Powered by a 4-cyle 3.2-horsepower GX 100 Honda engine, the new units join a rammer lineup that includes 2-cycle oil injection models and premix 2-cycle and diesel models.
The BS 50-4As and BS 60-4As feature low oil shutoff technology that detects if the machine has low or no oil and will not allow the engine to tart.
A purge bulb that evacuates air from the fuel line ensures easy starting, and a compensated carburetor ensures optimum air-to-fuel ratio to deliver air filter change intervals up to three times longer than previous models of rammers.
A four-stage air filtration system, available on all Wacker Neuson rammers, includes a main element with 20-percent more capacity that the previous design.
The rammer's motion self-cleans the unit, and a cyclonic pre-filter provides more efficient dirt removal. Also, a fourth stage "last chance filter prevents dust ingestion during filter changes.
Editor's Note: Amy Materson is the managing editor for sister site Equipment World.