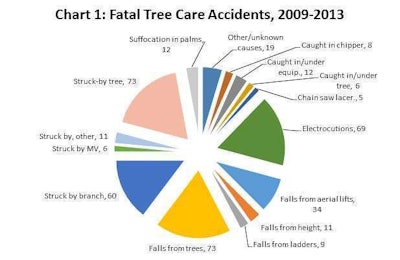 The Tree Care Industry Association (TCIA) recently released staggering statistics related to tree care accidents from the past five years.
The organization combined information on 408 occupational tree care accidents that occurred in North America from 2009-13.
"As far as we could determine, the victims – regardless of their professional background, title or employment status – were engaged in tree trimming or removal operations for pay at the time of their demise," says Peter Gerstenberger, Senior Advisor to the President of TCIA for Safety, Standards and Compliance. "We don't hold this information out to be encompassing of all fatal accidents. It is limited by the thoroughness of our search criteria as well as the news media's thoroughness in reporting an occurrence on any given day."
RELATED: How To Trim Around Power Lines
According to information compiled, falls from trees and struck-by trees were the most common cause of death, followed closely by electrocutions and being struck by a branch.
Gerstenberger notes that the information TCIA compiled is comparable to the Bureau of Labor Statistics' Census of Fatal Occupational Injuries.
For example, in fiscal year 2011, CFOI reported 83 fatalities among "tree trimmers and pruners". TCIA reported 87 fatalities for the same 12-month period.
The TCIA recommends all companies use proper training when it comes to tree work. The organization provides training programs like TCIA's "Safety Tree Felling and Preventing Struck-by's" pocket guide or its "Basic Training for Ground Operations" DVD.
As far as fatal accidents, TCIA reports failure is a common theme among them.
However, failure can help be avoided with proper inspections that TCIA recommends:
Tree inspection: Conduct a visual hazard assessment, including a root collar inspection
Aerial lifts: Follow the manufacturer's recommendations for frequent inspections and tests
Climbing gear: Check climbing equipment daily for damage or deterioration.