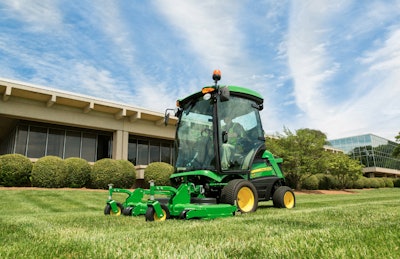 John Deere added five models to its line of front-mount mowers with the new 1500 Series TerrainCut: 1550, 1570, 1575, 1580 and 1585.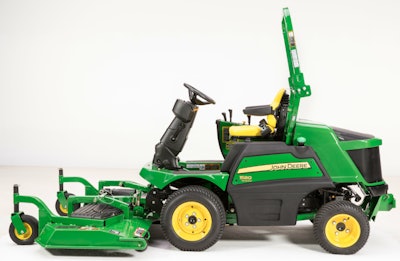 The mowers have either 24.2-horsepower (1550) or 37.4-horsepower Final Tier 4 engines. All of the 1500 TerrainCut models can be equipped with a 60- or 72-inch 7-Iron Pro side-discharge deck or a 62- or 72-inch Fastback rear-discharge deck. These decks come standard with flat-free, semi-pneumatic caster tires.
The 1550 and 1570 TerrainCut models are available with either two- or four-wheel drive. The on-demand four-wheel drive automatically engages and disengages as needed. The 1580 and 1585 TerrainCut models come standard with four-wheel drive and two-speed transmission.
RELATED: What Kind of Mower Are You?
The 1575 and 1585 models have factory-installed cabs and come standard with HVAC, front work lights, flashers, turn signals, windshield wiper, an upholstered, air suspension seat and tilt steering. Curved glass and single pane tempered windows provide an unobstructed view.
Available implements and accessories include snow blowers, blades, brooms, a weight transfer kit for improved attachment performance, auxiliary hydraulics and a cold weather heater block.