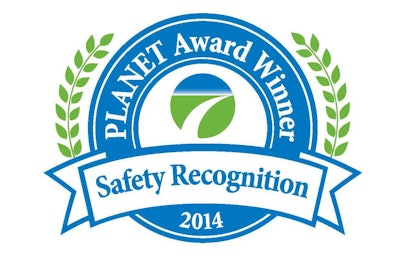 PLANET, the Professional Landcare Network, and CNA have announced the recipients of this year's Safety Recognition Awards.
The program is designed to acknowledge landscape industry professionals who demonstrate their commitment to safety.
All landscape industry companies and branches are eligible to enter the awards program whether or not they are members of PLANET.
A total of 156 companies submitted entries and 361 awards were earned for the performance period from Jan. 1 through Dec. 13, 2013.
Award categories include "No Vehicle Accidents," "No Injuries or Illnesses," and "No Days Away From Work" as well as the "Overall Safety Achievement Award."
Companies that participated in previous programs were also eligible for the "Most Improved" category.
The "Overall Safety Achievement" award honors those companies with high-performing safety programs that create and maintain safe work environments in the landscape industry.
Companies are eligible for this award if they demonstrate outstanding safety performance in the workplace based on their combined fleet and employee incident rates.
The "Best of the Best" award was earned by the following companies who, for the past three years, have maintained the "Overall Safety Achievement Award – Gold Level" status:
Fox Run Nurseries, Inc., Alexandria, Virginia
Greenleaf Services, Inc. Linville, North Carolina
KIRA, Inc. – Mayport, Florida
Mirrorscapes, LLC, Lancaster, Ohio
Keeping It Green Landcaping, York, Pennsylvania
No Ka Oi Landscape Services, Hanapepe, Hawaii
Recipients of the "Best of the Best," "Most Improved," and "Overall Safety Achievement" awards will be recognized on stage during PLANET's Green Industry Conference awards recognition dinner on Oct. 23 in Louisville, Kentucky.