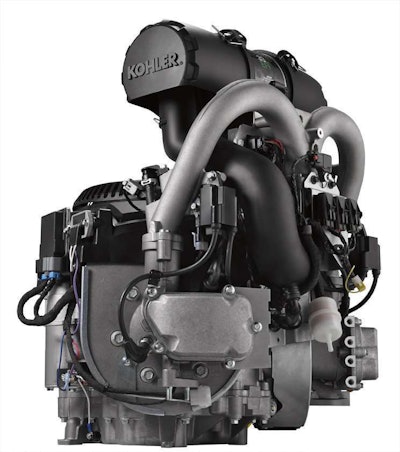 To meet the needs of the professional landscaper when it comes to providing enough power and fuel efficiency in a zero-turn mower, Kohler Engines has introduced the 824cc Command Pro EFI engine.
Featuring an air intake system that enhances airflow to maximize power and torque, the engine includes a closed-loop, electronic fuel injection (EFI) system.
The first official public unveiling of the engine will be held at GIE+EXPO in Louisville, Kentucky from Oct. 22-24, and will be available for a variety of commercial mowers for the 2015 model year.
Market trends
"In 2011, 37 percent of the market required at least 28 horsepower," says Tom Cromwell, president of Kohler Engines. "The market was clearly shifting to higher horsepower, and it was driven by two primary things."
According to Cromwell, prior to 2005, 55 percent of the decks were 54 inches and above.
"If you jump to 2011, that's up to 67 percent, so larger decks draw more horsepower," Cromwell says. "If you are going to have an engine driving a larger deck and spinning more or bigger blades, that takes more horsepower."
The second trend was manufacturers started to make the mower run faster. OEMs started putting larger hydrostatic drives in the mowers to make them go faster from a groundspeed standpoint.
"Based on those trends, we need more horsepower and more torque in an engine, but we want to make sure that we have a super fuel-efficient engine," Cromwell says. "We set some very tough goals and objectives for power, fuel efficiency and cooling with our engineering team. They exceeded those objectives in all three areas."
Engine breakdown
The Command Pro 824 is available in four models (ECV850, ECV860, ECV870 and ECV880) that offer between 27 and 33 horsepower, as well as offering fuel efficiency that will allow landscapers to save approximately $600 per engine per year in fuel costs over similar sized carbureted engines, based on typical commercial cutter usage.
"When it comes to engines, you often have to choose between power and fuel efficiency," says Mark Johansen, director of marketing for Kohler Engines. "With the 824, you get both. This engine is designed to help commercial cutters power through the toughest jobs while reducing downtime and minimizing fuel costs."
The engine features an optimized intake manifold and two spark plugs per cylinder head, which provides better combustion to maximize fuel efficiency and engine torque.
"We have two spark plugs for each cylinder to increase the burn rate in our combustion chamber to get state-of-the-art emissions results," says Dale Snyder, director of engineering.
The engineering team has designed baffles, cylinder heads and crankcase fins to provide efficient engine cooling, as well as a commercial air cleaner to minimize debris from reaching the engine.
"The root of all evils for air-cooled engines is if you're not cooling the source of the heat, you run into a lot of issues," Snyder says. "We focused a lot of up front analysis trying to cool the source of the heat. This will be the first engine in its class that does not need an oil cooler when in application. That was a challenge that was thrown out to us, and it worked out pretty well."
There is also an optional electronic governor to help deliver a better throttle response, engine load pickup and stability.
EFI Technology
After some additional research from the Kohler Engines team, Johansen says that over the life of a commercial ZTR mower, fuel costs account for 48 percent of total cost of owning that mower.
The 824cc Command Pro EFI uses the Kohler-designed closed-loop system, which means an oxygen sensor in the muffler continuously analyzes the air/fuel mixture.
If the air/fuel mixture strays from the ideal level, the sensor triggers adjustments to the amount of fuel injected into the system.
"We've invested in a work-hour equivalent of six years of design simulation," Johansen says. "The 824 exceeds commercial duty standards and is being released to the market after more than 27,500 hours of testing."
The engines are supported by diagnostic software designed to tap into the engine's performance data. The software provides automotive-grade diagnostic capabilities, as well as a variety of information for the user.
Propane model planned
In addition to the gasoline models, Kohler Engines will also be releasing to propane 824cc Command Pro EFI engines – the PCV850 and PCV860 (27 and 29 horsepower, respectively).
"We're going to have this product launched in early 2015 in the second quarter," says Eric Hudak, senior product manager. "We're already lining up OEMs that are looking at this product for next year."
For the model year 2015, Hudak says between the 747cc Propane EFI and the 824cc Propane EFI, Kohler will have more than 10 SKUs with existing, as well as new OEMs that be coming into play.
Additionally, Kohler has launched a partnership with Gravely for this upcoming fall.
Kohler has manufactured the closed-loop EFI engine for propane use, which eliminates the need for aftermarket propane kits.
The propane engine is available for the $1,000 rebate from the Propane Education and Research Council (PERC) on new equipment purchases, additional state incentives of up to $2,500 offered by 11 states and municipal incentives in local areas.
Production
The 824cc Command Pro EFI models will be built at the commercial plant and company headquarters in Kohler, Wisconsin.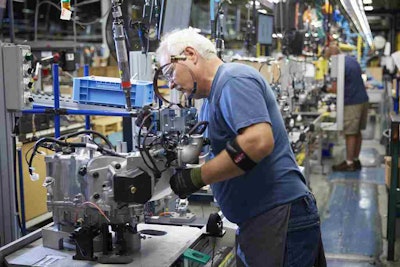 The engines will be built using computer numerical control machining centers, as well as a newly designed production line.
The assembly line is outfitted with robotics and inspection technology.
The engines will go through quality checks throughout the production process, and each will be individually tested before shipment.
Click through the slideshow below: