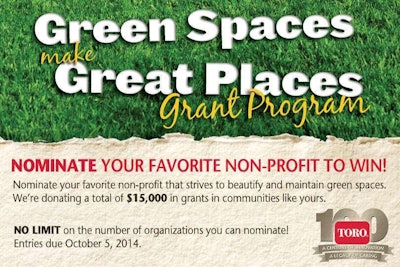 To help improve outdoor environments and green spaces for communities, Toro has launched the "Green Spaces Makes Great Places" program.
This is the second annual community grant program that will award grants totaling $15,000 to communities and non-profits to improve landscapes across America.
Toro is asking the public to nominate non-profit organizations or government entities like state or city parks, recreation division, conservation division and public educational entities that are doing work to beautify and maintain green spaces.
Lincolnshire-Prairie View School District 103 won top prize in the last program and used their $7,500 grant to renovate the landscape and hardscape surrounding the playground at Laura B. Sprague Elementary School.
Online entries will be accepted through Oct. 5.
At the conclusion of the nomination period, a panel of Toro representatives will evaluate and select four finalists to create (and submit by Oct. 26) a brief video further detailing their organization's mission.
The grant awards will be determined by a public vote from Oct. 31 through Nov. 21 on Facebook. The first-place organization (earning the most votes) will receive $7,000, the second-place organization will be awarded $4,000, and the remaining two organizations will be given $2,000 each. Winners will be announced Nov. 26.