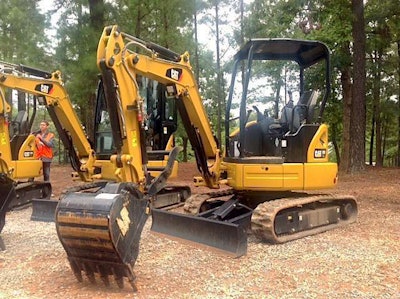 In addition to its new E2 series of mini-excavators we reported on earlier, Caterpillar has also introduced another mini-ex, but one sufficiently different to warrant it's own article.
Unlike the E2 series with their high definition hydraulics and smart technology, the 303E is a no frills, back-to-basics machine. It is ideally suited to price conscious customers, rental fleets and low-hours utility and landscaping applications.
"It is a very simple model, not a COMPASS* model, there is no AC, and the engine is under 25 horsepower, which means it will not require a diesel particulate filter or diesel oxidation catalyst," says Greg Worley, senior project engineer. "There are only four options, cab, canopy, and rubber or steel tracks. It has 100 percent pilot hydraulics, a mechanical engine and analog monitor."
Since the 303E meets its emissions targets without a DPF or DOC, that means no regens, simpler maintenance and a less expensive engine.
The 303E CR measures just 61 inches across the blade and its compact radius swing makes it easy to transport. At 7,782 pounds for the cab version and 7,297 pounds for the canopy version, the 303E CR should be towable with most 3/4 ton pickups with the proper setup such as a weight distributing hitch. (Check your truck's towing specs to be sure.)
The engine on the 303E CR cranks out 23.5 horsepower and delivers 23.1 gallons per minute of load-sensing hydraulics. It digs to a depth of 108 inches and dig height measures 178 inches.
The 303E also accepts all Cat 303.5 and 304E Series work tools. The bucket can rotate 200 degrees, which helps retain material at the top of the lift cycle and makes it possible to dig deeper flat-back trenches with less machine repositioning. A mechanical quick coupler is available and you can reverse the bucket to use it like a front shovel.
*Editor's Note: COMPASS is Cat's term for a sophisticated, touch screen computer display monitor that allows you to set machine and hydraulic operating parameters and monitors service cycles and security.
Tom Jackson is the Executive Editor for sister magazine Equipment World.