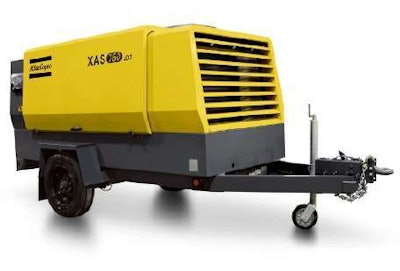 John Deere Power Systems will be partnering with Atlas Copco in 2015.
The company's PowerTech Final Tier 4/Stage IV engines will power three new air compressors from Atlas Copco – the Atlas Copco XAS 750, XAS 1800 and XATS 1050 JD models.
Production of the units is set to begin in 2015.
The Final Tier 4/Stage IV XAS 750 air compressor will feature the PowerTech PVS 6.8L engine, rated at 187 kW, while the Final Tier 4/Stage IV XAS 1800 will be driven by the PowerTech PSS 13.5L engine, rated at 393 kW. The XATS 1050 JD will include the PowerTech PSS 9.0L engine, rated at 242 kW.
To meet Final Tier 4/Stage IV requirements in the 93 kW and above power range, John Deere configured an Integrated Emissions Control system with cooled exhaust gas recirculation, a diesel oxidation catalyst/diesel particulate filter and selective catalytic reduction.
In addition to emissions compliance, the John Deere Final Tier 4/Stage IV solutions offer Atlas Copco improved transient response time, proven reliability and very low diesel exhaust fluid consumption (1 to 3 percent) compared to diesel fuel consumption.