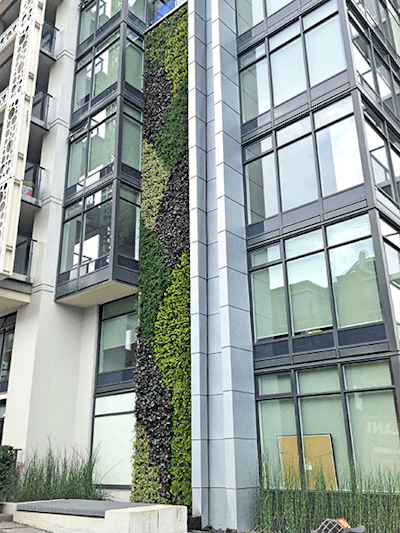 Another green wall is taking center stage, and this time it's making its debut in West Vancouver.
The green wall is on display at a two-building condo and was designed by Henriquez Partners Arhitects and developed by Peterson Group and Westbank.
The green wall is construction with GSky's Pro Wall System, a flexible, modular system for the exterior that is designed to resist heavy winds, rain and earthquakes.
The density of 12 plants per square foot of the wall panel allows for a flexible design.
Designed by Debbie Kotalic, GSky's Director of Artistic Horticultural Design, the Green Wall features a combination of plants.
The wall is 322 square feet and uses a total of 3,780 different plants.
The plants used include:
Fragaria Chiloensis 'Coastal'
Euonymus Fortunei 'Emerald & Gold'
Blechnum Spicant 'Deer Fern'
Heuchera Micrantha 'Palace Purple'
Euonymus Fortunei 'Emerald Gaiety'
Cotoneaster Dammeri 'Bearberry'
Dryopteris Erythrosora 'Autumn Fern'