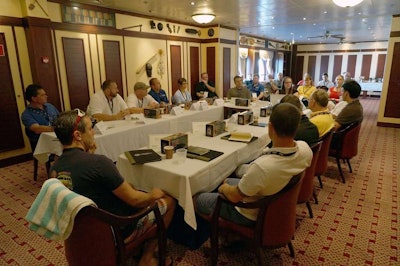 Between employee retention, healthcare and minimum wage standards, landscapers are faced with a great deal of challenges.
Our 2015 Landscaper of the Year finalists are no different.
The final part of our roundtable series focuses on struggles landscapers face day in and day out.
Finding quality help
Finding the right employees is difficult. Everyone knows this in the industry. Whether it's finding the right foreman, manager or stonemason, finding that perfect employee for your business can cause quite the headache.
But, what can be even worse is retaining those employees. "It is hard," says Jason Tebben, owner of Arborscapes. "And then when you do find it, you have other companies now reaching for them and offering bigger packages, and more incentives. It's just tough."
If Tebben could hire 15 laborers, five foreman and two managers that were all qualified immediately, he would.
"It's just being an E-Verified company and having to go through that process," Tebben says. "I'd much rather run a tighter, leaner crew than have somebody that's not fitting in with us, or slacking and dragging everybody else down."
Landscapers

say recession no more; business booming moving into 2015

Russ Irvin with TDH Landscaping uses the H-2B program to find quality laborers, which is a worthwhile but extensive process. Beyond the fees for processing Visas, there is a great deal of handling from providing housing, teaching the new guys how the program works and battling minimum wage standards.

"We've been doing it so long that the guys that come up every year know exactly what the program is," Irvin says. "They don't have to reinvent the wheel, and then when they bring the young ones up, they teach the young ones what the program is."

The Visa program can change in an instant, according to Irvin, and the company is continuously battling minimum wage since the minimum wage for the program is higher than what is for the local minimum wage.

Because of its location so close to the border, one of the biggest issues for Sonoran Oasis Landscaping is dealing with the competition. "It can be really difficult when you're trying to do things legally and paying all your taxes, workers comp and insurance, and you've got competition who's there hiring people who are illegally coming over the border and paying them under the table," says Deborah Munoz-Chacon, owner of Sonoran Landscaping. "And we're an E-Verify company as well, so we have to run everyone through the government program to make sure that they're legally here.

"I have found as a woman owner it's difficult to hire older experienced Hispanic workers, because they don't want work for me."

Keeping the right employees
It's all about taking care of employees for Mark Brotton, owner of Living Water Irrigation and Landscape.

With consistent training and cross training, Brotton has been able to have long-term employees. "I'm paying them whatever I need to pay to pay them, because I'm doing decoder systems," Brotton says. "I'm doing probably the highest-end irrigation in our area, so if you done the two-wire systems, they're not easy to do.

"You have to get the right guys to do that, and they have to have the intelligent level and the aptitude to do that. If you see that, keep it. It's worth it."

Greenleaf Landscaping also sees benefits in rewarding its employees. "We have a little program in the company called our Hero of the Week," says Ken Schuster, owner of Greenleaf Landscaping. & Gardens. "Everybody on the workforce gets one vote. You vote for someone, and your reason why. The person who receives the most votes wins."
Part Two: Landscapers discuss how and when to start the exit strategy process
That winner receives a $20 gift card.
"Every Monday morning, we read through all these votes and it's amazing to see little things happening around your shop just because people are conscious of other people watching them and trying to do something good for the company," Schuster says. "It really generated a lot of fellowship among the crew people."
Munoz-Chacon does something similar for her employees, but it's based on client compliments. The employee who receives the most compliments from their clients in a month gets a gift card, recognition and taken to lunch.
Irvin also follows the, "I'll take care of you if you'll take care of me" approach as well. "I've always separated business from pleasure, but at the same time, during the business day, I try to make them part of the family," Irvin says. "If they have family issues, we work together and try to help them with their family issues."
For Irvin, it's not so much about the money but the package his company can offer his employees. To help keep employees around, he has some of his younger employees sign an agreement at the beginning of the year and offer a potential bonus or raise to make sure they are on board for the year. "If they would not sign the agreement, I knew where I stood," Irvin says. "If they did sign the agreement, then I knew where I stood."
Education is everything
To help solve Munoz-Chacon's problem of finding workers, the company aims to hire entry-level workers and train them to move up in the company.
Through education and training with the help of the University of Arizona's six-week SmartScape program, workers are trained quickly and easily. "Most of our employees have been with us five to nine years and then continue to stay with us, and they move up in the company," Munoz-Chacon says.
Additionally, the company will pay for drive time, training time and if it's something that is benefiting the company directly, the employee will get a bonus as well when they show their certificate at the end of the training.
Irvin also likes to educate his employees by paying for their college education as long as they maintain a 'B' average or greater.
"We want them to continue their education, and we want them to benefit," Irvin says. "Ultimately, it's going to benefit the company as well."