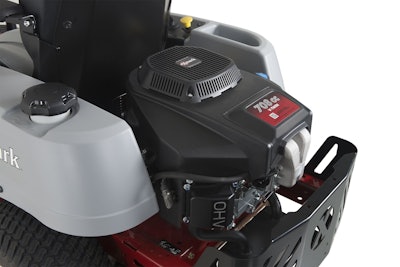 Specifically designed for Exmark zero-turn mower applications, Exmark unveiled two Exmark-branded engines.
The single- and twin-cylinder engines feature overhead value designs to decrease fuel consumption and emissions, as well as reduce engine-operating temperature.
Engineers enhanced features such as cast iron cylinder liners, oversized crankshaft bearings and triple-ring pistons.
Exmark also includes a QR code on each engine, which allows for scanning with a smartphone or tablet to provide the user with maintenance and service information for the engine, as well as specifications and other information.
708cc V-twin engine
The Exmark 708cc V-twin engine features an air intake designed that reduces dust and debris build-up with a constant flow of pre-screened air.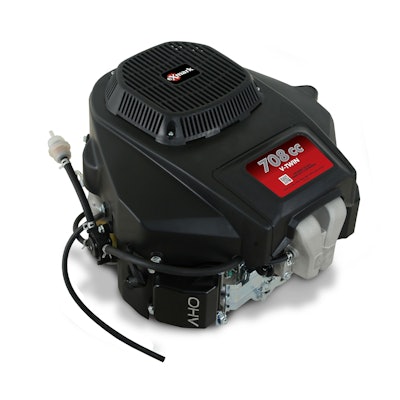 The designed of the air box cover and air filter help eliminate the possibility of incorrectly installing a filter.
Combined with a standard dual-barrel carburetor, the intake system delivers more air to the engine for increased power and fuel efficiency, and reduced operating temperature.
The Exmark 708cc V-twin engine also features a vacuum choke override.
A standard quick-drain system helps oil changes by offering the ability to drain oil without tools.
Exmark's revamped Quest E- and S-Series machines are the first machines to be available with the twin-cylinder engine. The engine will be standard on Quest E-Series mowers with 42- or 54-inch cutting decks, and Quest S-Series machines with 42- or 50-inch cutting decks.
452cc single-cylinder engine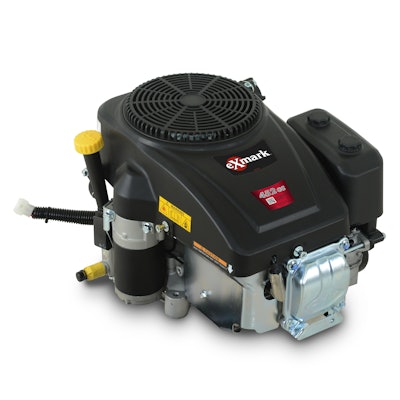 A balance shaft design on the 452cc engine reduces vibration, while an automatic compression release combines with electric starting to delivery quick starts.
Full-pressure lubrication and a standard dual-stage oil filtration system increase durability by delivering a supply of engine oil to specific engine parts.
The 452cc single-cylinder engine will first be available on 34-inch Quest S-Series machines, with additional applications expected in 2015 and beyond.