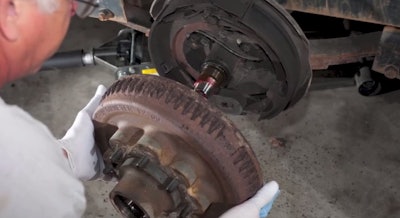 Equipment trailers are a vital tool for landscapers, so having them working properly and being well-maintained is a critical part of business success.
One area of trailers that dictates their usefulness and efficiency is brakes: Brakes are the biggest wear item by far, and if they aren't maintained, some serious safety issues arise.
Electric brakes are the most common, and they are remarkably simple in their operation:
Step on the brake pedal and a 12-volt current is sent to a small electromagnet inside the brake assembly that then actuates the brake shoes.
When the magnet is energized, it grabs hold of the face of the brake drum.
That motion causes the metal arm, to which the magnet is attached, to pivot outward, forcing the brake shoes against the brake drum.
Such simplicity makes doing a brake job on electrics easier than dealing with hydraulic or surge-type brakes.
The service can be sped up even more by utilizing a complete electric brake backing plate assembly.
What makes these nice for commercial landscapers and construction companies that do their own maintenance is they already have the brake shoes and all related parts installed in the backing plate.
This saves both time and money as mechanics don't have to spend time removing and re-installing brake shoes, springs and the magnet arm assembly.
The video below shows the steps — and highlights some key areas of the install.