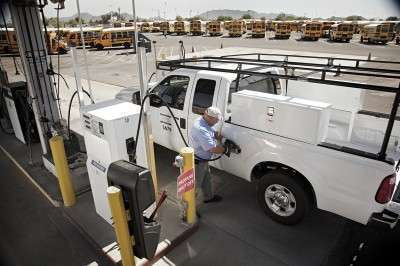 Alternative fuels. How do you figure out if making the change from gas or diesel pickups is the right move for your business?
Todd Mouw, the vice president of sales and marketing at Roush Clean Tech, which focuses on propane "autogas" vehicles, tells potential customers to focus on these five factors:
1. Total cost of ownership.
Don't get caught up in the miles per gallon discussion. MPG is an ineffective measurement, because alternative fuels don't burn at the same rate as gasoline or diesel. Instead, focus on cost-per-mile, and track the savings against your current gasoline or diesel solution.
Fuels that burn cleaner in engines can result in reduced maintenance costs, and less wear and tear on the engine and components.
A total ownership cost analysis will provide an "apples to apples" comparison between the fuels, which will give you a true reading of your vehicles' lifetime expenses.
2. Fueling accessibility.
With fueling stations in every state and thousands across the country, alternatives like autogas provide a strong network of public refueling infrastructure for fleets without private stations.
Also, if private fueling is desired, installing an autogas station costs less than any other fueling station, including gasoline or diesel.
3. Cold weather performance.
Mouw says autogas engines start easier and warm up faster than either gas or diesel engines.
4. Vehicle warranties.
Alternative-fuel vehicles built by factory-authorized suppliers maintain the factory warranty. That's because the system components have been designed, developed, integrated and tested to that manufacturer's specs.
5. Domestic fuel.
Auotgas is a clean-burning, affordable and domestically produced fuel that can provide both economic and environmental benefits.
EDITOR'S NOTE: Bruce Smith is a senior editor at Randall-Reilly.