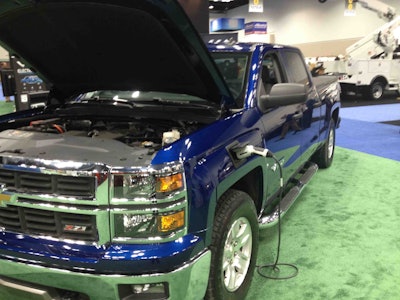 Want to go green but can't afford a Tesla? VIA Motors' electrified Chevy Silverado 4×4 is here. It gets the fuel economy equivalent of 120 mpg on 60 miles driven daily.
The truck has an all electric range of up to 40 miles with near zero emissions, but an onboard EcoTec3 4.6-liter V6 gasoline engine VTRUX offers an extended range of up to 400 miles. The gas engine doesn't turn the wheels. It's used only when needed to generate a charge for the truck's batteries.
You can also get electricity out of the truck with 120- and 240-volt outlets built on the rear of the truck. The outlets provide electricity to power tools or lights in the event of an emergency, or televisions and radios for tailgating.
The VTRUX Extended Cab has a curb weight of 5,200 pounds with its full-size bed delivering a payload capacity of 1,800 pounds.
The truck can be charged at any household outlet but a 240-volt outlet is needed for faster charging. VIA says driving in full-electric mode costs as little as 60 cents per equivalent gallon or about 5 cents per mile. VTRUX also qualifies for a $7,500 federal tax credit.
Here are more photos:
Editor's Note: Jason Cannon serves as the Online Managing Editor for sister site Hard Working Trucks