Here's how one Texas company tackles an ongoing problem in their area and gain a lot of clients as a result.
The Problem: Invasive species like cedar (ashe juniper) and mesquite overgrowing in large areas, such as ranches in states like Texas and Oklahoma
"Cedar trees just guzzle down water (up to 35 gallons a day) and their canopies are actually so well evolved to collect water that it doesn't even really get a chance to hit the ground," Mackenzie Dekock of Cedar Eaters of Texas.
"It just soaks up into their leaves and anything that does hit the ground, the roots soak up. Oak trees around the area are dying, and there's hardly any grasslands in central Texas. It used to be covered in native grasses and nowadays, it's just covered in cedar and it just spreads and spreads."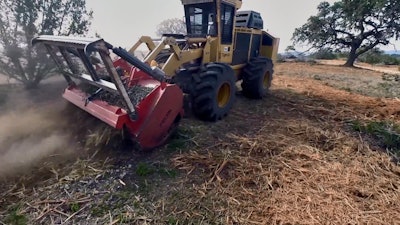 The Solution: Mulching cedar and grubbing mesquite
The People: Cedar Eaters is a woman-owned, family-owned business that's been in operation since 2001. They currently have about 17 employees – three in the office and the rest in the field, including six machine operators, a hand crew and a grubber operator. They do smaller residential projects up to large ranches and government contracts.
The Process:
They use 300 horse-power mulching machines, equipped with Fecon cutting heads.
For grubbing, there are two inventions – One is the Root-N-All, which pulls up small to medium-sized trees straight out of the ground, including the tap root. The Grubber is used for larger jobs that can be attached to excavators.
"(The Grubber) can actually pull out cedar trees," Dekock says, "but it's better to just mulch cedar because that'll take care of it – just mulching it to the ground. You don't have to pull out the roots on cedar trees.
Any tree that will grow back if you cut it off, it's really made to do that – to take care of the root and then it can't regrow."
Their job supervisors focus on different areas of the state. After a call comes in, they do a walkthrough of the property and give clients a detailed estimate of the cost, including if a hand crew is needed or a certain piece of equipment, like a skid steer. The client then decides how long to use the company based on their needs and budget.
These attachments are patented, but they aren't keeping them to themselves. Cedar Eaters sell them so their clients can do maintenance without the expense of bringing them back in.
Because the products can handle different types of invasive trees and plants, such as huisache, black locust, retama and persimmon, they're ideal for landscaping companies.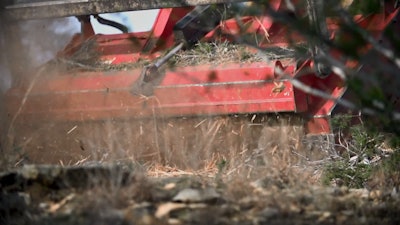 The Mission: "As far as our cedar mulching, we really believe in what we do, because it's very beneficial for the environment," Dekock says. "USGS (United States Geological Survey), the Department of Agriculture and some environmental agencies have done studies that have found that the removal of cedar actually causes the water that's hitting the ground – the rainfall – to fill up the aquifers.
"When you remove the cedar, all of a sudden people's dry creeks and empty lake beds start filling up again," she says. "Everything overall – the native plants like the grasses and the flowers and the trees – they start to do a lot better once cedar's not around just choking everything out. We're in a drought in this area, so any water that we can put back into the ground is a really good thing."
Watch them in action in the videos below: