Bobcat Co. and its parent organization, Doosan, recently completed a $12-million renovation of engineering and factory facilities in Gwinner, North Dakota. The company says both projects are part of the its ongoing capital investments to enhance work environments and accommodate growth.
Bobcat says several functional improvements were made to the Gwinner engineering facility to promote a more collaborative work environment: Individual offices have been removed to open up the floor plan and workstation areas; and interactive conference rooms and enclaves were added for small- and large-group meetings, and more independent and private work. Advanced technology supports the entire building, the company says.
Similar to what has been done at other Bobcat and Doosan facilities, the Gwinner building is now designed to create more "chance encounters" among employees who might not otherwise work together, the company says.
Bobcat says it has also added "vitality" elements such as standing desks, treadmill work stations and an expanded break room.
At the company's primary production facility in Gwinner, Bobcat and Doosan have expanded the north assembly and compact excavator production areas. They've been redesigned to help improve factory flow and increase accessibility for employees. The company also renovated break rooms in that project and increased the number of restrooms in the plant. Dedicated lockers were added for each shift employee.
Meanwhile, a shot blast system and an orange ColorMax booth were added to the paint line area. The shot blast system will be used to prep the major weldments before painting, while the ColorMax booth will help spread a weather-resistant, orange finish evenly on the tailgates.
Independent We Stand backs 'Main Streets'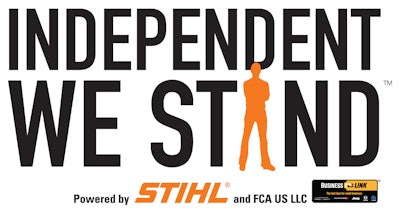 More than 150,000 votes were cast for 253 nominees in the nomination phase of the 2016 Independent We Stand "America's Main Streets" contest. Semifinalist voting has just begun and runs through May 29. The city that wins the $25,000 grand prize in the "America's Main Streets" contest will be announced June 3.
Independent We Stand is a movement of independent business owners across the country that promotes the importance of "Buying Local." It's co-sponsored by Stihl Inc. and FCA US LLC.
The 2016 quarterfinalists in alphabetical order are:
Ames Main Street Cultural District, Ames, Iowa
Cedar Lee Business District Ohio, Cleveland Heights, Ohio
Corning's Gaffer District, Corning, New York
Dover-Foxcroft Downtown, Dover-Foxcroft, Maine
Downtown Brookings, Brookings, South Dakota
Downtown Development Authority of the City of Tifton, Georgia
Downtown Laurel, Laurel, Mississippi
Downtown Lynden, Lynden, Washington
Doylestown, PA, Doylestown, Pennsylvania.
Gateway to the Great North Woods, Millinocket, Maine
Grapevine Historic Main Street, Grapevine, Texas
Historic Downtown Franklin TN, Franklin, Tennessee
Jacksonville Main Street, Jacksonville, Illinois
Main Street Greenville, Greenville, Ohio
Main Street Libertyville, Libertyville, Illinois
Main Street Madison Indiana, Madison, Indiana
McKinney Main Street, McKinney, Texas
Moultrie Main Street, Moultrie, Georgia
Sterling Main Street, Sterling, Illinois
Stuart Main Street, Stuart, Florida
Third Street, Beaver, Pennsylvania
Venice Main Street, Venice, Florida
Water Street, Gardiner, Maine
Wellsboro Main Street Pennsylvania, Wellsboro, Pennsylvania
Woodstock, Georgia
A Fourth of July press conference is planned at which the winner will announce how the city plans to use the $25,000 grand prize.
Other prizes include a certificate for $1,000 worth of Stihl equipment, a $500 Tire Pros certificate toward a set of Continental tires, a $500 Do it Best Corp. shopping spree and a $500 PPG Pittsburgh Paints certificate.
To vote for quarterfinalists in the "America's Main Streets" contest, visit this website.
Irrigation Association launching magazine
The Irrigation Association says it will launch its own magazine, Irrigation Today, in July.

A printed, quarterly publication, the magazine will be distributed to 10,000 IA member contractors, dealer/distributors, consultants and manufacturers, qualified nonmembers and industry stakeholders.
A corresponding online version will be developed with each issue, IA says, with additional distribution including government agencies, irrigation districts, extension agents, growers and commercial end users, in addition to IA's international stakeholders.
To best serve the irrigation industry, the distribution of Irrigation Today will be equal among agriculture and landscape professionals, the association says. Content included in the periodical will be balanced, focusing on topics such as sustaining water resources, smart technologies, drought, irrigation system maintenance and repair, along with the state of the industry.
In announcing the new magazine, IA said an editorial committee consisting of both agriculture and landscape professionals has been formed to be the mouthpiece of the industry. The committee will "identify hot-button news, trending topics and issues facing the industry," IA states in a news release.
Douglas Dynamics racks up recognition
Douglas Dynamics Inc., a manufacturer of vehicle attachments and equipment, has once again been named as one of the fastest-growing public companies in Wisconsin by the Milwaukee Business Journal.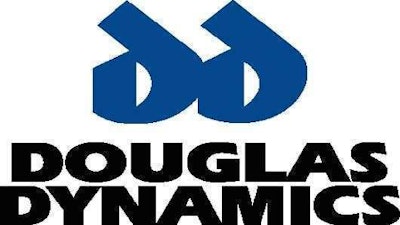 The company has been recognized as the third-fastest growing public company in Wisconsin for 2015, which is the third consecutive year it has been included. Douglas Dynamics also ranked second in 2014 and was named the fastest growing public company in 2013.
"Our growth in recent years is a testament to the consistent diligence and dedication of our employees around the world," said James L. Janik, chairman, president and CEO of the company.
Meanwhile, Western Products, a division of Douglas Dynamics, recently was cited as one of 2016's "Top Workplaces" by The Milwaukee Journal Sentinel. The Top Workplaces lists are based solely on the results of an employee survey administered by WorkplaceDynamics, a research firm that specializes in organizational health and workplace improvement.
"The Top Workplaces award is not a popularity contest. And oftentimes, people assume it's all about fancy perks and benefits," says Doug Claffey, CEO of WorkplaceDynamics. "But to be a Top Workplace, organizations must meet our strict standards for organizational health. And who better to ask about work life than the people who live the culture every day – the employees."
Western Products employs 280 people in the Milwaukee area. Its parent, Douglas Dynamics, employs approximately 1,100 people and has four manufacturing facilities and six truck equipment centers in the United States, as well as an office in Beijing, China.
Several aspects of workplace culture were measured in the survey.